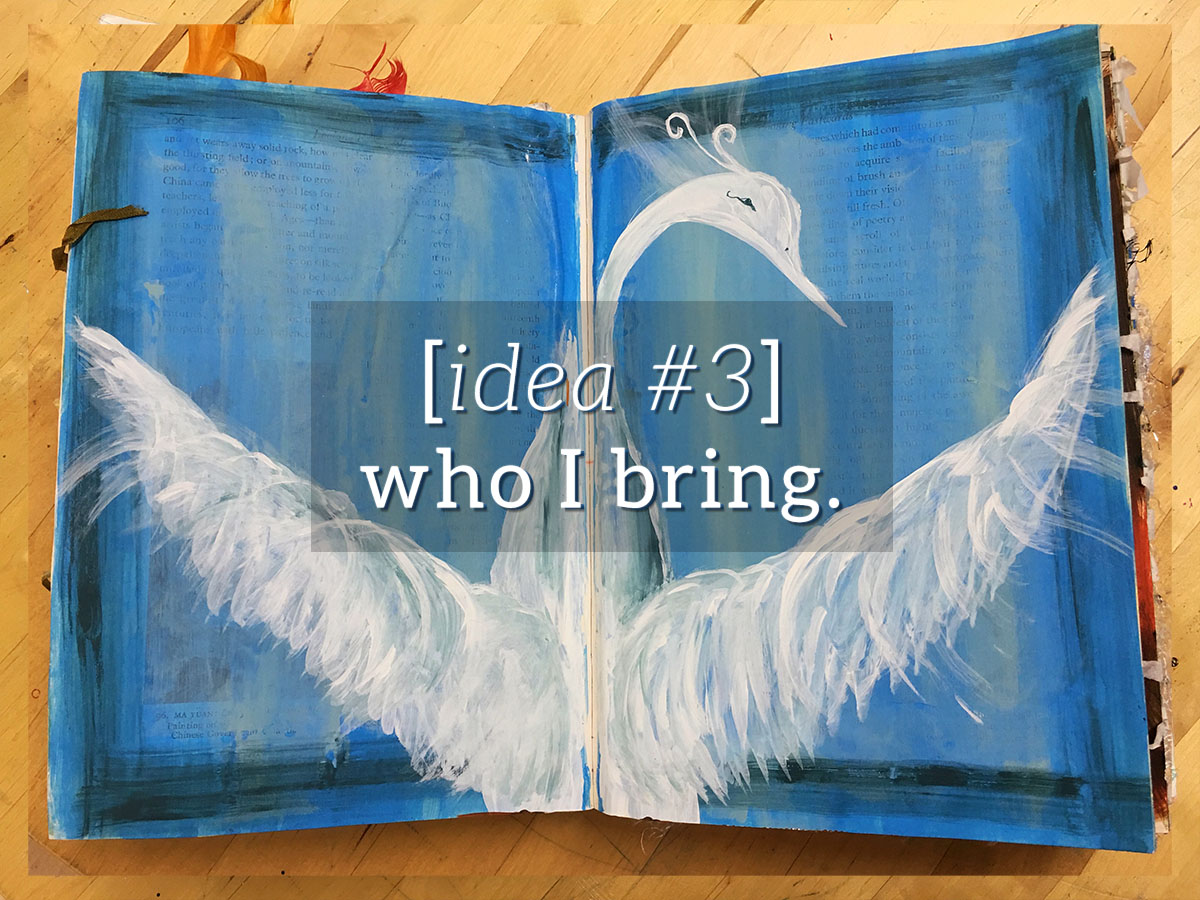 Each week, for a month, I'm sharing a visual journaling idea with you to try. I hope you get inspired and start your own visual journaling pages. May these ideas bring clarity and inspiration to the valuable work you do in the world. Read about visual journaling and altered books in my first post: Visual Journaling Page Idea #1. And, be sure to catch idea #2, here.
Idea #3. Who I Bring
We therapists work in isolation most of the time. We meet with our clients behind closed doors. We have our chairs, our supplies, and ourselves. While we make sure to collaborate with our clients, we are still all alone in our helper role. No one is around to tell us what to do. No one is around to guide us in the crucial moments of uncertainty. For the most part, I like it this way. There is a sense of peace and necessity about working with a client without the bombardment of multiple points of view. I feel my strong commitment to my clients in this stance—like it's just us and we are together in the endeavor.
But, there are times when I crave input or strength or clarity. When this happens I make a mental note to bring the issue to consultation. But that only helps for future sessions. In that moment, when doubt creeps in, what do you do? How do you cope?
The psychotherapist and author, Nancy Napier has a wonderful solution. In those moments of difficulty, when she is flooded with uncertainty, she imagines ALL of the therapists throughout time supporting her from behind. She imagines the faces of therapists she admires. She calls up the founding fathers and mothers who have guided our field throughout history. She stacks their presences up and feels their collective wisdom supporting her to come into the moment and bring trust. When Nancy taught this at conference I was attending, I felt empowered. The imagery and the concept is grounding and validating. And, over the years, my own version has evolved.
For your Altered Book Page: Represent "Who I Bring"
You bring many parts of you to session. The parts inform your role as a therapist and support your way of being with a client. You might have a child part who brings play and a sense of lightness. Your bubbly cheerleader part may come into play when you want to celebrate a client's success. Many of us have a wise part that seems to have access to wisdom that other parts don't. This part is a wonderful part to get in touch with. If you feel isolated, stuck, or flooded with uncertainty, you can call upon this wise part for guidance.
My wise part is full of grace and lightness. She hovers above and can see things from that different perspective. Her wings give her the ability not to get stuck on ground level and she often takes flight to lighten her mood or intensity. She is beautiful and ageless. She is "Who I Bring" when I need to re-center. In those moments that Nancy Napier describes, when I am stuck or scared, my graceful egret part swoops in for support.
Think about this part for yourself. When you imagine tapping into your own wisdom, how does it arrive? What does it feel like when you are in contact with it? What animal form might it take? Create a page that represents this part of yourself. Practice visualizing the presence of this part so that when you need It, it will be there.
If this idea inspires you to create a page, we'd LOVE to see!! Please share pictures of your altered book page ideas over on the InnerCanvas Facebook page-click here.
Are you loving the altered book idea to help you in your work with clients? Join us now for Going Beyond Words: The Art of Therapeutic Relationship-click here. It's a Continuing Education Course for therapists that will give you hands-on art invitations to help you forge powerful therapeutic relationships that are the very foundation of change in your work with clients.