What happens when you look at your office from your client's chair?
What do you see? 
When you change your perspective, you are thinking more creatively.  You can jump start stale thinking and nudge stagnant ideas.
Transcription:
This week on The Creative Advantage: Change your Perspective.
When we are looking at problems, we need to be able to see from different points of view or else we get stuck seeing things from that same point of view and we miss seeing what we would have seen had we looked differently of from a different perspective.
Creative people know that getting outside of your work space and changing the scenery jumps starts stale thinking.  Richard Serra, the sculptor, used to ride public transportation all around New York just to shift his stagnant ideas.  Nietzche wandered the mountain sides in order to write.  He said, "All great thoughts are conceived by walking."
Practice changing your perspective.
First, state an issue that a client has.  Then look at it very, very close up as if it is magnified.  Then look at it from very high up as if you were a bird looking down.  Sit in the chair or coach where your client sits and take a look from your client's perspective.
You can apply these same, change your perspective ideas for you own problems, too.  It can nudge a stale perspective in a new direction, and you can come up with something new and more imaginative.  See what kind of creative ideas come up as a result.
What did other therapists see when they changed their perspective?
Jodie Gale saw a dark, empty corner that needed sprucing up.  She went out and bought these beautiful flowers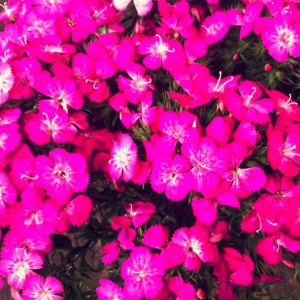 and when she looked again at that same corner she found that it mirrored sweetness, loveliness, beauty and worth.  The very things that she wants to inspre her clients see about themselves.
Nissa Jackman and Patti Anastasi paid attention to the chairs in which their clients sit for sessions.  And, how those chairs are positioned relative to where they as therapists sit.  High/low, above/below, in a corner/against a wall.  All of these considerations were important perspectives that the creativity exercises invited them to take.  Patti even likes to look at the art work that is in view for the client.  Sometimes she changes it if she feels a client could be motivated by something different.
Sylma Fine often sees clients outside of the office so that she can literally see her clients in another setting.  She feels that seeing clients out in the world, on a walk and in the community brings out different aspects of the client and allows her to interact on different levels with her clients.
What other perspectives could you take into consideration when looking at a client's problem? 
How does this affect your perception?  What do you see and what does it invite you to change?
Remember, comment below with your reflections on this creativity exercise and you will be eligible to win FREE registration to Artfix, my online creativity course for therapists!!  I'll be selecting a winner on Valentine's Day.
Also, about the sweater!  This one has a weird name already! It's the "Mary Moser". Named after a strange artist that I knew once who lived in the bottom of my grandparents' house. When she died she left all of her art and fiber supplies. I wove her yarn into the sweater. I know, weird! I'm sure you can come up with a better name!  If you leave a name in the comment section below, you might win a pack of beautiful handmade greeting cards.  I'm sending some out tomorrow to Jody Wager from last week's contest!  And, I'll draw another name this weekend!
Sweater names so far:
Gert
Miss Jean
Threads