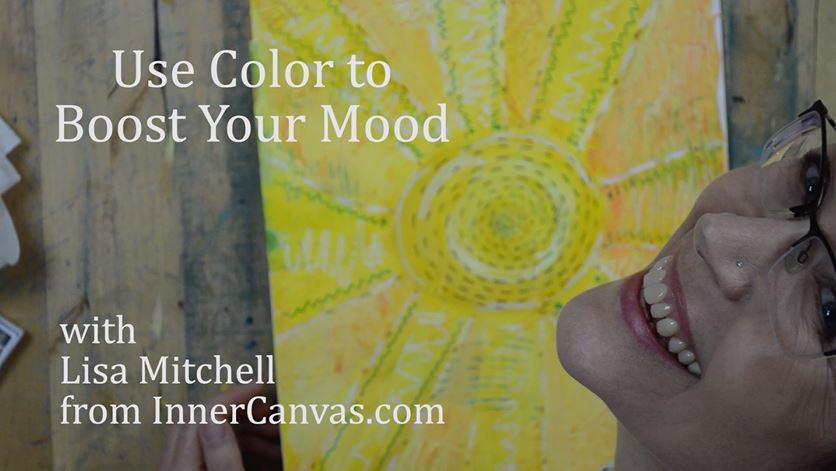 Color can be a powerful resource for resilience and happiness.  When you access your resource color, you boost your mood and brighten your well-being.  These kinds of activities are vital for therapists and clients alike.  Rather than spending session after session slogging through dysfunction and what's gone wrong, why not spend a session (or two or three or four) activating resources?
Here's a fun activity to start with.
Use Color to Boost Your Mood:  Access Your Resource Palette
1. Pick a color you love and write about it.  Write for 5-10 solid minutes in a brainstorm, free form fashion.  Write about why you love it, what it reminds you of, the qualities of the color.
Here's an excerpt from my yellow art activity:
   "I love yellow.  I love the blinding sun light that sneaks through my closed eyelids and warms the inside of my brain.  I love yellow's fresh lemon zest and how it wakes me up even when I'm slogged and far away.  I love yellow with its hope and promised reminder that signals the inevitability of morning, a new day, a fresh start. Yellow pierces through darkness and floods it with light.  It tingles and tells me I've alive."
2. Glue collage papers in various tones and hues of your color onto a heavy piece of paper.  Do this spontaneously and randomly.  You don't need a plan.  Just working with the color is the art.
3. Add paint of various tones and hues of your color.  Again, let this morph as it wants to.  You don't need to know what it is going to look like in the end.  You just need to stay with the color and your celebration of that color. Let dry.
4. Using other drawing materials like oil pastels, water soluble crayons, permanent markers, colored pencils add to your painting.  Adopt a playful attitude and just get curious about what you'd like to add with these materials.  Spend a moment sitting with your completed art.
5. Now write some more.  Take 5-10 minutes to write about your painting using the stem sentence, "The color __________ boosts my mood because____________________."  Let the ideas emerge spontaneously, write what comes to mind.
Here's an excerpt from my yellow art activity:
  "Yellow boosts my mood because it has an energy all its own.  It wants to radiate and be set free to spin.  If you let it, it will grow and reach and permeate places still dark.  It wants to dance.  Yellow boosts my mood because it is playful and wants me to jump in and giggle.  It is simultaneously warming and invigorating—like the lemon zest in a tangy cocktail invented for a special summer occasion.  It's celebratory, but not in a way that asks for fanfare.  Just in its yellowness—it can't help but say, "Yes, yay, yippee. For me, the spinning is the finishing touch. (Watch the video to see for yourself!)  When I close my eyes and watch yellow spin—playful rays shooting outward, growing itself into more light—it makes me smile and feel all the possibility in the world."
I hope you try this Boost Your Mood With Color art activity.  I've found that the combination of resource based art activities and writing is incredibly powerful.  Share it with your client!  Let us know how it goes!
If you are interested in a very special opportunity to experience the powerfully healing combination of writing and art you might want to join me in my Sacramento studio for Artspace starting in September 2017.  We will be practicing and refining "Collab—Art—wrITE" which is the process of cultivating a relationship between painting and prose.  When you cultivate the art-write relationship your creative expression has the kind of depth and breadth that inspires great healing and inspiration.