Can we use our relationship with our art to improve our relationship with people?
I think we can.  I think if we practice relating to our art in a loving way, we can strengthen our ability to have healthy and loving relationships with people.  Our art is an extension of self, and when we treat it this way, it can be beautiful and engaging.
The first barrier to having a good relationship with your art is one that I see people grapple with on a daily basis.  Whether our art is a painting, a performance, a carefully crafted speech, or conducting a therapy session we are taught to evaluate it as if it was an object.  We tend to look at it with comparison and judgement.  We pick at the flaws and try to correct them.  Rather than relating to our art by engaging with it, we hold it up, evaluate it and give it a grade.
Sure there is a time for evaluating our art, but why not practice relating to it first? 
Why not engage with it as if it was a dearly beloved?  Someone who you want to give your full attention to. Someone  you love dearly.
When we enter into conversation with our art in this way, we are practicing a beautifully healthy relationship to self.  We are curious, kind, compassionate, and the imperfections are far less important than the relationship to our art. Our conversation shifts from objectifying statements to genuine questions that are aimed at deepening the relationship rather than changing it.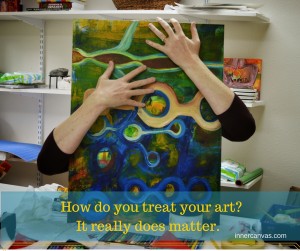 Some of my favorite questions to ask when engaging with my art are:
What am I most curious about?
What is my art asking me to pay attention to?
What shapes or phrases or moves do I treasure or love?
What is my art inviting me to do next?
Is there something new here that I haven't seen or heard before (regardless of whether I like it or not)?
What does my art have to say to me?
How would I respond to this (that my art is saying) if my art was a dear friend?
When we think about our art in this relational way, and we interact with it conversationally, we are practicing a collaborate stance.  A way of being with it that is healthy and beautiful.
When I teach therapists and clients to relate to their art in this way, it invites a transformative shift in perspective that releases them from a critical, shaming view of their art and work.
Try a few of these questions and see how your art responds.
Please, I'd love it if you'd contribute your experience and ideas about relating to your art to practice relating to others in the comments box below.