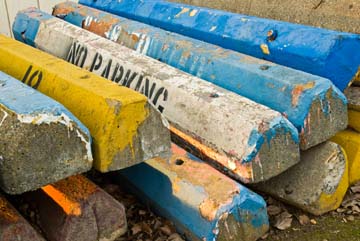 These concrete curbs are on vacation.  They lie piled, wearing layers of paint and tire tread from years of former use.  Each is poised behind the shed at American River College, waiting to be called back into fulfilling another parking lot request for structure or signage. The pile changes from time to time, a blue curb filling in the space left behind by a yellow one having been called out to use.  It's a beautiful thing to watch.  A facility manager's sculpture; concrete curbs on vacation rotation.
I'm about ready to go on vacation, too.
This holiday my vacation means a real break.
Family and friend time instead of client time.
Pleasure reading instead of research.
Projects that feed my soul.
Little schedule, lots of spontaneity.
When we take a break—a real break—it is vacation, but it's also a wonderful opportunity to revel in seeing our lives and roles from a different perspective.  When we are in the DOING of our roles, it is often difficult to really see.  But when we take a step away and shift perspectives, we get to have a fresh view that allows more information.
I anticipate feeling breathless with the beauty of all that I do in my work because I know it's there to see.  I also know that shifting perspectives will help me see it more keenly.
The ability to shift perspectives takes flexibility.  It requires focused intention.  And, at the same time, an openness to that brain bending experience of seeing things totally differently.  Like finding a pile of stored curbs and noticing that they are in fact urban art.  Or stumbling upon phrases that you use with clients and hearing them as poetry.  And, in our work with clients, offering them a weekly vacation from their DOING, and the invitation to shift perspectives and see their lives/roles in a whole new light.
What can you see differently this holiday season?
How will you shift your perspective in order to take a real break?  I hope it leaves you blissfully breathless!