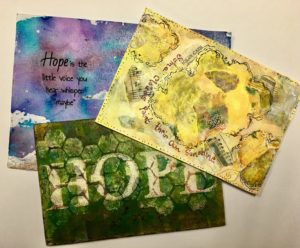 I got HOPE in the mail and I held it in my hands!
I signed up for Gretchen Miller's Creative Deed Art Challenge thinking it was a fun idea to be a part of a postcard exchange.  The theme was HOPE which made it feel comfy and cozy.  I made three postcards, infused them with HOPE, and addressed them to Australia, Maryland, and Iowa.  It felt good.  I liked thinking about my hope-filled art cruising around the country and finally landing in someone's appreciative hand.  I enjoyed following the Facebook images of the others' who were creating postcards and gifting their hope to the world.  I thought to myself, "This exchange thing is wonderful.  I want to do more."
Then I started receiving postcard gifts of my own in the mail.  Through the mail slot–real paper, real art, from real people popped through and landed on the floor with such grace and beauty.  To my delicious surprise, the very same people to whom I'd gifted a hope postcard had made and sent me one of their postcards.  We were now linked.  Joined in our endeavor to spread hopefilled art and in our appreciation of one another's wish to connect in this way.  When I first received each one I traced the texture and line with my fingers and truly honored the handcraftedness of the postcard.  I have carried the three cards with me in my planner and feel buoyed by their presence in my daily schedule.
It might sound sappy or perhaps a bit overly dramatic, but I hadn't received a REAL piece of mail since a dear friend created a congratulations card after my book was published.  That was 8 months ago.  I keep that one in my planner too!
Art has power.
The power of art is never lost on me.  When we hold art in our hands.  Or when we make art with our hands.  Or when we make art for others and gift it to them—hands giving and hands receiving.  The power becomes tangible.  For example, the very abstract concept of hope became a concrete experience when 3 strangers used art to translate their hope and send it to me.
But it's easy to forget.
This kind of thing doesn't happen often enough.  We tend to rely on our thoughts or concepts to decode our experiences.  And because we rarely take the concepts further, into tangible form, we suffer from a form of alienation that is very subtle and pervasive.  We lose connection with our ability to create, to manifest, to connect with our hands.  And ultimately, I think we lose connection with ourselves and others.
Imagine a baby who is exploring its mother's face with its hands.  Or a baby who reaches for a stranger's shiny necklace to touch it, hold it, even taste it.  The baby is relying on the tangible to explore and understand these new concepts—mother, stranger, necklace.  To deny the baby that exploration is to alienate it from the true understanding of those concepts.
This is very important in therapy.
Our clients have the same needs.  Research shows us very clearly, that talking about concepts can be momentarily helpful, but when we want to help our clients make long term change, we need to root the concepts in real experiences.  The key to making an experience real is to ground it in the physical.  The senses of touch, taste, smell, sound, and sight are the fastest route to translating a concept into something tangible.  But in a fast paced world, that thrives on digital communication, this REALNESS gets forgotten.  When we slow things down and invite our clients to use their hands for understanding through art or other creative expression, we are creating the kind of experiences that support long term change.
It's also important for therapists!
In this whole postcard experience, I've become aware of how much I miss the in-person therapist groups I used to facilitate. The ability to reach so many more therapists online has been really attractive in these past 3 years.  I've connected with thousands of beautiful therapists and healers virtually.  And, while this is so very valuable for all of us, there is still an absence of those in-person hugs.    I miss sharing our art–up close and personal-as validation of our shared experiences as therapists.  For that reason, I'm pleased to announce that I will be offering several in-person workshops in 2017.  The first of which is ArtSpace: An Art Based Process Group for Therapists.
If you are in or near Sacramento, I would so love to have you join me in this hands-on experiential workshop.
If you are not located in Sacramento–perhaps we could send each other a postcard and connect in that real way!?