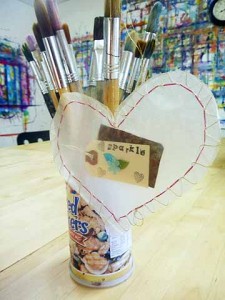 In my office, I see the symptoms of a teen epidemic.  With my pre-teen clients, I see only glimpses of the developing problem.  But with the teens, I am witness to the fallout of a tragic event.  Every teen who comes through my door has a closed off way of being, they've abandoned the art of opening their heart to others.  It is tragic and painful.  When a teen shuts off openheartedness as a way of being, I see they are no longer candid and frank, kind and warm, sincere and generous.  They stop disclosing intentions and thoughts clearly.  They suffer and so do their friends and family. 
Openheartedness can fall victim to the unnecessary cruelty that happens between 6th and 7th grade girls.  It can be obliterated by abuse of any kind.  It gets restricted in the face of judgment and criticism, unrealistic expectations, and even teasing about appearance, weight, grades, talents, interests, mistakes.  Openheartedness is fragile.
Though abuse and criticism are horrible (often horrifying), I don't think those difficulties are really the problem.  Every teen is going to face some kind of life changing struggle.  Every teen is going to be challenged to overcome an obstacle.  Every teen has conflict with parents or parental figures.  The real problem is this.  Teens are not being shown how to recover their openheartedness.  They are not taught that the art of reconnecting with themselves and others is a vital step to resolving a problem.  Instead, we ask them to "suck it up"; or wipe our brow in relief because they "seem just fine"; or we "wait for the storm to blow over" and then "forget that it ever happened."  Eventually, in the wake of these attitudes, teens becomes more withdrawn, less kind and sincere, and, as a way of protecting all of that pureness in their hearts, they close it off—to themselves and others.
The very thing I love about working with teens is the moment when they reunite with their openheartedness.  This moment is invariably the key.  Their openheartedness becomes the trajectory that finally aims them in the right direction.  It becomes a source of personal power; an internal compass by which they can always navigate.  When this happens, I celebrate, I tear up, my own heart softens at the recognition that, yet again, an open heart has been freed.
I've cultivated some rules for myself when working with teens.  They are good rules for life, too.  I have lots, but here are my top three.
1. Maintain your own openheartedness.  Know what it feels like when you start to shut your heart to the teen.  Don't let this happen.  If it does, model recovery and re-open your heart right then and there.
2. Never think about what you are going to say or how you are going to respond when a teen is talking.  Their brain signals are designed to detect your slight distraction (read as confrontation or contradiction) and it's just not worth it.  Instead, hear them out.  Every last word.  Then respond with a sentence that proves you listened—even if you disagree.
3. Show respect.   Don't make them wrong and you right.  Instead, ask them questions that help them sort out contradictions.  If you have a sense that you know something that would help, ask their permission to teach it to them.
These rules also embody the very essence of creativity.  They ask me to embrace not knowing and to stay fully engaged in the moment.  They remind me that there is never just one right way, and that my way is just one option.  They guide me into openheartedness which fuels freedom to change direction, treat mistakes as opportunity, and to go with the flow.
I've been trying to come up with art activities that can teach openheartedness.  I like this one because it involves collage, words, mindful handwork, and self reflection.
When I've done this activity with teens and their parents, it's been so moving.  The parents melt into their openheartedness, and the teen finds that key that they so desperately need.
If you'd like, please come on over here for the full rundown of how to make Openhearted Art!