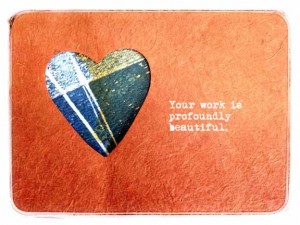 On this 2014 Valentine's Day, I am moved to declare my love for our profession and for each one of you who participates in this work with a whole heart. 
My friends say they like it when I get mushy–so here goes.
 I love you because:
You invite me to be the best human being possible.
You humble me.
You touch me–deeply–in endlessly surprising ways.
Your determination to make a difference is superhuman and seemingly fueled by an endless supply of compassion.
You help to create change and transformation that ripples through families in both subtle and monumental ways.
You inspire me to look for new ideas, in new layers, from new perspectives all day and all night. 
You continue to show me how resilient humans really are.
You are a continually beautiful  reminder of the imperfection in our human condition. 
You work hard with your heart.
You ask me to keep my  heart open.
Every day you give me a reminder of what really matters.
This love thing is no joke…..this is a profession that requires us to have a huge capacity to love. 
Here's to feeling the love, showing our love in many different ways, and to staying whole hearted in our love filled work.
Happy Valentine's Day!
Want to fall in love with your work even more?????  Check out this post about Therapeutic Use of Self.