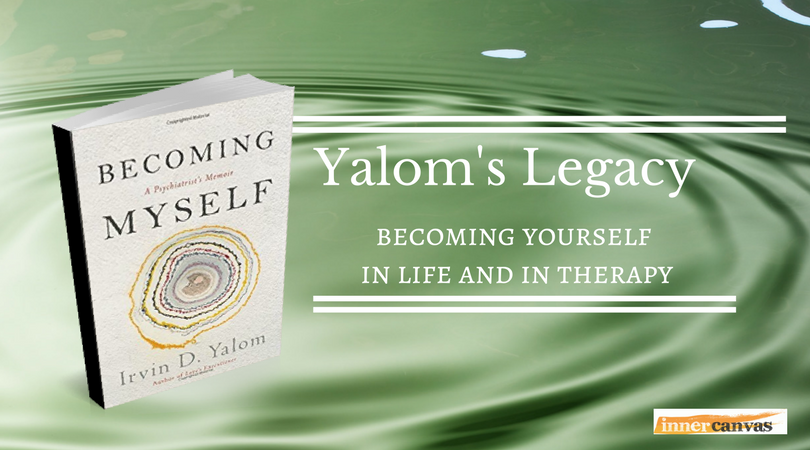 Teaching therapists about relationship
Aside from what my clients have taught me, I've learned more about being a therapist from Irv Yalom than from anyone else. The teaching stories in his books are told with a voice of deep respect and real love for his clients and for the process.  He keeps close tabs on his internal processes and often shows up from behind the analyst's veil to self-disclose in a deeply vulnerable way.  Yalom has guided me, through his books, to invent therapy anew for each client and to be courageous in this act.
While his newest, and self-proclaimed last book is a memoir– not a book of therapy stories–it is indeed a touching act of self-disclosure.  In Becoming Myself, he does for us, as he does for his clients.  He makes himself real.  This is a gift he's given us. We get to see inside his family history, his mind as he developed radical new ways of teaching young therapists, and to hear his few life regrets and thoughts on dying.
Yalom stays close to us in Becoming Myself.  In reading the memoir, it often feels as we might as well be in his library, sipping brandy, listening to his warm and genuine voice.  He recalls wondrous happenings like a reception in Greece attended by thousands.  He is tickled by this surprise celebrity status and, as readers, we cheer him on in his journey to contribute more—share more of himself and his work.  He also shares his failures. Like the meeting with a Russian corporation where no one talked or asked questions and they had to sneak him American cash in an envelope at the reception  afterwards.
Here are several take-aways that I want to highlight for you.
In life, in therapy, and in relationship, Yalom's memoir teaches us do the following:
Mention your regrets. Yalom doesn't have many, but he does let us know what they are. He regrets hurting a patient through a story he wrote called, "The Fat Lady".  His intention in writing the story was to teach about countertransference.  He used his reaction to his patient's weight to do this..  But looking back he states that he wished he hadn't used her weight as the focus.  He sees now, that his over ambition to make a point blinded him and that he could have taught the same content by choosing a different issue that wouldn't have hurt his client.  He also regrets not having spent more time with his kids.  This is something so valuable to hear.  That his success and effort in work came with a cost—time.
Go back through your life and find the thread that lead you to be who you are. This is no small feat, but Yalom shows us who he was even as a young boy. He tells us about the project of reading the section of biographies at the library starting with the A's and going through to the Z's while he was a youth.  He sees the beginnings of telling stories about therapy in med school when he risked criticism and rejection by choosing to tell a story about his client rather than make a dry case presentation for rounds. Not surprisingly,  he was admired and noticed.
Be vulnerable. Let others into your interior life. Interestingly, Yalom got feedback from his writers' group that he needed to do more of this for Becoming Myself. He obviously took their advice and recounts struggles with health, memory loss, difficulty with long airplane flights, and loss of lifelong friends as he ages.
Acknowledge your spouse and talk about your family. Yalom's pride and respect for his wife is admirable. He lets us know Marilyn is accomplished in her own literary talents and that they have worked side by side for nearly their entire lives.  They are companions and we get to see this in their travels and the development of both of their careers.  Yalom's dedication to his wife and family is clearly a reflection of who he is and without this interwoven story of personal and professional, the memoir would have holes.
Becoming Myself, doesn't teach us how to do therapy, it teaches us how to live.
In this teaching, Yalom now dives further into establishing a close relationship with his readers.  It's as if he is saying, "You, dear and faithful reader, have been with me on this journey of life for so long.  Let's talk about it.  Let's do more with what we've established.  Let's mine our relationship and learn to the very end, together."
Yalom's emphasis on relationship as the healing mechanism in therapy is powerful. It is inspirational.  It is vital.
I talked to him about this and other things including the role of risk in the therapeutic relationship during a phone interview in 2015 after Creatures of a Day was published.  I share it with you here because it is precious to me, and what he says about modern day therapy (make sure to listen to the end) is wonderful. Click on the play arrow below to start the interview.
---
---
If this inspires your to explore more about Yalom's emphasis on the therapeutic relationship, you may want to check out my online course, Going Beyond Words: The Art of Therapeutic Relationship.  Registration is happening now!