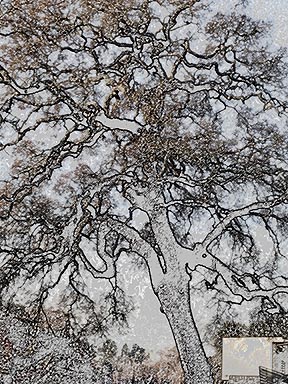 I've stepped away from it all for a week or so.  Instead of art directives and treatment goals, I thought about king tides and the seals barking in the bay.  I walked long stretches of California beach and watched junky Netflix movies at night curled up in front of the wood stove.  Getting away is wonderful.  Coming back is sometimes hard.
But this year, I'm deciding to hitch a ride on hope and creativity.  With the New Year, this seems to be just the thing to remember.  That with each client, with each beginning, the act of engaging requires two things:  Hope and Creativity.
As I arrive at work today, I will remember what comes so naturally.  And I will slip myself back into the wonderful exchange of doing therapy. 
First, I will remember that I have to create order out of the chaos.
Therapy invites us to be artists.  And, as artists, we use our creativity to consolidate and sort.  We make connections between disparate parts and find some sense in it all.  We have to love doing this so much that the client gets mesmerized by our interest to the point of wanting to participate with us in the act of sorting. 
Second, I will remember my belief that always, on some level, I can help.
Therapy asks us to be hope merchants. We have to hold the hope that there can be relief for a client, and that we can play a part in helping them find relief.  We must believe it so much that we convey it in our every being.  By engaging, by conversing, by assessing we are a bridge of hope that invites the client into relationship to seek  relief for his/her symptoms. 
Please forgive me, but with all of this nature and relaxation, a poem came out:
Finding Beauty
Your complex canopy of branches creak and moan with the wind.
As I gaze to the sky, my eyes wander along twists and clumps
I am taken in by the complexity that makes no sense
How can water travel the multitude of  upward switch backs
and arrive at such a tiny leaf?
How is it that you can, a tree in your own right, still be standing?
I want to show you what I see.
Your divine beauty.
The power and tenacity of a tree trunk that can sustain toothpick branches and limbs outstretched.
I want to create a picture of you.
One where you can find a focal point that saves you from the spinning
Where order emerges when the zoom lens finds a bird's nest
or the hummingbird flitting in and out.
As a hope merchant,
I know that picture is there.
It's my honor….my pure joy….
to find it with you.
We will gasp with sudden recognition together,
like two kindergartners on the rug at reading time
who simultaneously find Waldo in that crazy-making book
that we find so very compelling.