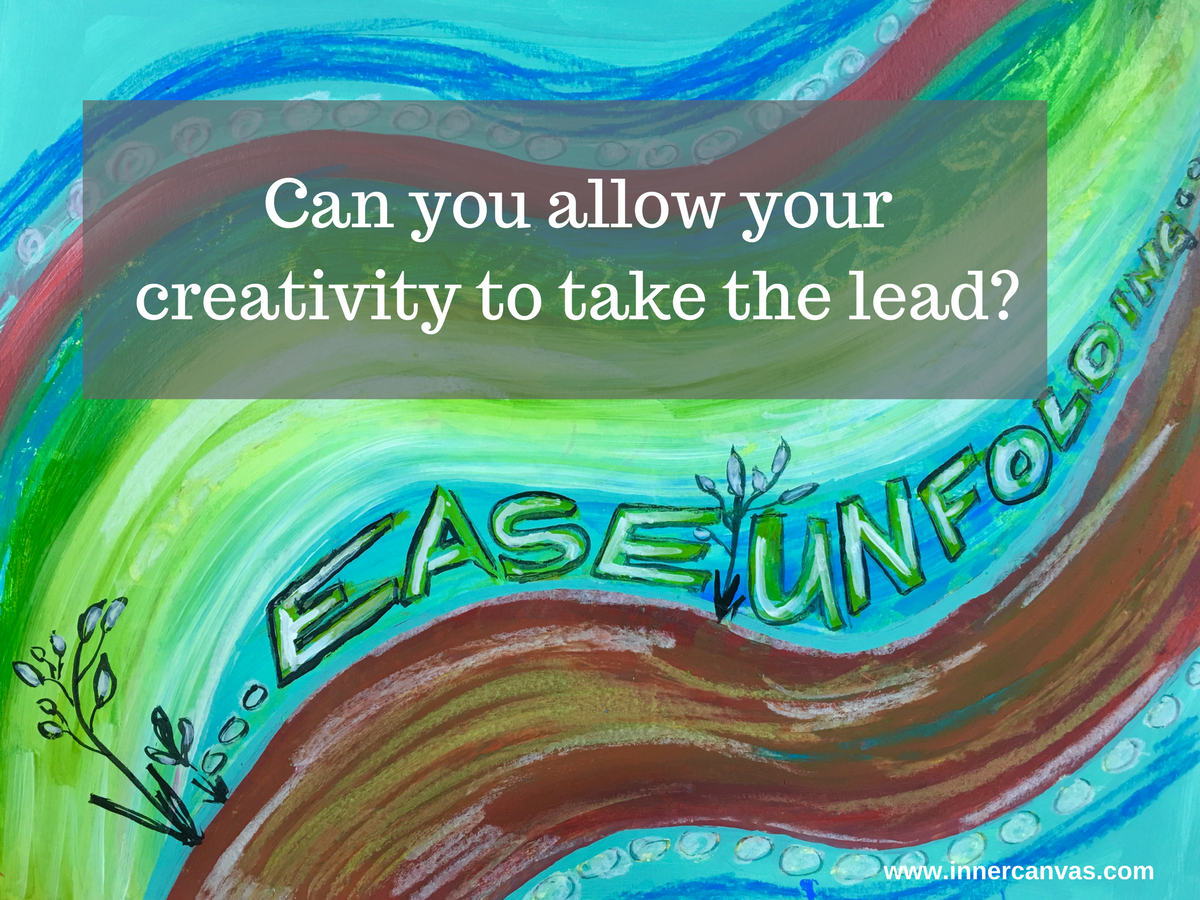 Last year was a year of putting my work out into the world.  I lectured in 25 different cities across the US, I taught five 4-week online programs and co-hosted a 2 day online creativity festival.  I launched my book and celebrated with 80 colleagues.  I wrote 35 blog posts and more emails than I can count.  2016 was a year of taking my creative harvest and sharing it with thousands of people.  I loved it.  And I learned from it.
Let creativity lead
In a 4 hour long, heartfelt conversation with my friend, Shelley, yesterday, I heard myself saying, "I don't want to force anything right now.  I don't want to squeeze a blog post out just because I know I can.  I don't want to white knuckle anything. I'm done leading my creativity.  This year I want my creativity to lead me."  She teared up a teensy bit and put her hand to her heart.  It resonated with her and we decided to hold each other in this intention.  And so, we closed our computers and put down our pens.  Rather than pound out the details for the retreat we were planning, we just talked.  We talked in swirls and ideas and metaphors and personal experiences.  It was time for lunch and I asked, "So what should we do?"  Shelley said, "Well, I think we need to just keep talking.  Shall we set aside time to do that regularly?"  I agreed, "Yup, we just need to keep talking, but how about we just let the talking part emerge out of just being together."  It felt perfect.  It is perfect.
I've always struggled with Mary Oliver's poem, Wild Geese.  I adore it.  But the first lines have baffled me….
You do not have to be good.

You do not have to walk on your knees

For a hundred miles through the desert, repenting.

You only have to let the soft animal of your body love what it loves.
It sounds good.  Like there's an invitation there that's delicious.  But formerly, doing what my soft body loves has repelled me with images of eating multiple cartons of Ben and Jerry's while binge watching Grey's Anatomy.  And, that has felt self-indulgent, non-productive, without a sense of purpose or passion.  Not even creative.
Now, this year, this moment in my life, I get it.  I understand in my bones that Mary Oliver is inviting us to stop striving and white knuckling and squeezing out that barely baked piece of art.  It is an invitation to allow creativity to take the lead and guide us to discovering new ideas that fuel our work.
If it wants to make something, it will
One of the projects on my calendar this year is to produce and co-host Create Fest, the 2nd annual creativity festival for mental health professionals.  It's a huge undertaking and I wasn't sure I'd be able to do it without white knuckling.  So I hesitated.  I put it off.  Then a little spark of curiosity led me to ask Rick Hanson to be a guest speaker.  He said yes and was very supportive of the Create Fest mission to inspire therapists to do creative experiential work.  And then I asked myself, "Who else do I really want to talk with?" Which led to interviews with some of my most favorite authors!  And with this sense of ease, Create Fest is shaping into a beautiful creative collection of conversations and inspiration that I can't wait to share.
So many times, in the creative process, we make the mistake of beginning with only the end in mind.  A painting to hang above the couch, a memoir about childhood, an online program that will sell, a therapeutic technique that will teach a specific skill.  We drive the creative process as if it is a navigable train and we miss the richness of the experience.  When I was writing my book, Creativity as Co-Therapist, I was the most disciplined I have ever known myself to be.  I forced myself to hermit one weekend a month and do nothing but write.  It was excruciating at times.  I'm proud of what I created, but there is a part of me that wonders if that was the best way to let that piece of work emerge.  If I had been nicer to myself, or on a looser timeline, or with a softer touch—I wonder what my creativity could have led me to.
I have another writing project now that has emerged in the most organic and beautiful way.  My mother and I are collaborating and we are writing what we call Mother/Daughter Perspectives.  Our writing endeavor is a way for her and me to share the process of our evolving relationship and history.  We now have a list of shared events and moments.  Each week we choose one of those moments and write from our hearts about our memories, our experiences, and our perspectives.  When we share these every week the phone line vibrates with truth and intensity and so much possibility.  We don't know where this writing endeavor will take us—it is the leader, really.  What I do know is that I want to follow it to see where it goes.
I think we need to consciously plant seeds for our creative process to thrive.  Last year I harvested—maybe even clear cut.  This year, the seeds are showing up in surprising places.  I've fed my creativity with new information and experiences because that's what nourishes the soil for new ideas to grow. I plan to share more about what I've been doing to plant those seeds in future posts.  But for now, I hope you consider this.
In order to create, artists need to fertilize and plant seeds.  And therapists, are, in fact artists.
What could you stop white knuckling?  What creative endeavor could you allow to take the lead?
I'd love to have you join me in the ease of unfolding.
(And stay tuned for Create Fest 2017—because it is becoming something wonderful!)