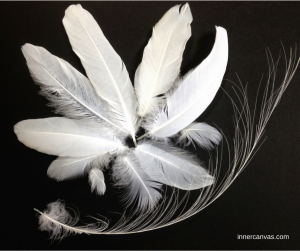 When I was a teen my favorite book was Pilgrim at Tinker Creek by Annie Dillard.  I read Dillard's poetic account of the nature she studied every day for a year while living alone in a cabin on Tinker Creek.  She recorded her astute witnessing of even the smallest of animals with whom she co-inhabited the woods.  She was present, engaged, and maintained a level of seeing that wasn't diminished by routine or familiarity.
I used to take walks along my own creek, Little Sewickley Creek, and try to see the water bugs skate along the water's surface in the way the Annie had described in her book.  I wanted to be peaceful and absorb my surroundings through her lens.  Much of the time I was able to.  Some of the time my creek was just a creek—the same old one I'd walked along for a decade.
During this long hot August, I've pulled my heavily worn and underlined copy of Pilgrim at Tinker Creek off the book shelf in hopes of getting reminded of the exquisite view that Annie Dillard's sustained attention can inspire.
You see, it's a drought out here in Sacramento.  Things are crispy and brown.  The landscape, the lawns, the trees are mostly dead.  It's not pretty.  It's not inspiring.  I'm really not tempted to make a practice of gazing peacefully on the impossible-to-escape-fact that we need water.  Nevertheless, my dogs need walked. So, I continue to take them to the river, fox tails and all.
Last week I was dragged down by the monotony of brown and the same predictable views, but I went. My dogs and I walked the same trail we've walked almost daily for the last 5 years.  We passed the same rock mounds, the same fennel patches, the same river banks filled with high grass and birds.  The heat started early and I wanted to head back before we made the full loop.
Because the dogs needed another drink, I continued on our same route along the river.  While Cyrus shot head first down the bank to wade in the cool water, I waited impatiently.
It was then that I spied the grace and delicate white of an egret's tail feather lying in the wheat grass.  I went to pick it up and felt instantly lifted.  Its beauty blinded me while I watched the pure silken strands float in the thick air.  I looked more closely at the ground and found a treasure trove of white feathers.  As I collected them, I remembered back to Spring and the nests of egret babies nearby.  Now fledglings, they were molting and my boring brown morning was a beneficiary of their growth.  For a moment, while I gathered the angelic feathers, I was Annie Dillard again, finding beauty in the ruins.  Noticing, engaging, celebrating even the smallest of natural things.
In some ways, being a therapist in August can be a bit dry, a bit slow, and potentially uninspiring.  August marks the time of year when clients go on vacation, cancel last minute, and have fluctuating schedules that interfere with their therapy attendance. It's no wonder that the likes of Freud and other traditional psychoanalysts have traditionally taken the month of August off.  Those of us who stick around keep showing up.  And in that sense, the whole endeavor of private practice during August becomes an exercise in flexibility and seizing opportunities.
I'm glad I'm here, in my office, still seeing clients.
Because when I show up, when I see through a lens like Annie Dillard's, I glimpse beauty in the ruins.  I find grace and delicacy and occasionally the coveted angel wing.  Here, in my office, the drought is lifted with a rain of possibility and I am grateful to August and Annie and the egrets that reminded me to keep looking.
Do you feel like you need a restart?  Do you need some energy and creative spark to take you into Fall?
Artfix is coming up….it's probably exactly what you need!  It starts October 1st.  Early registration starts August 31st. I'm now able to provide CEU's for many, many more states!! You can get on the notification list here.