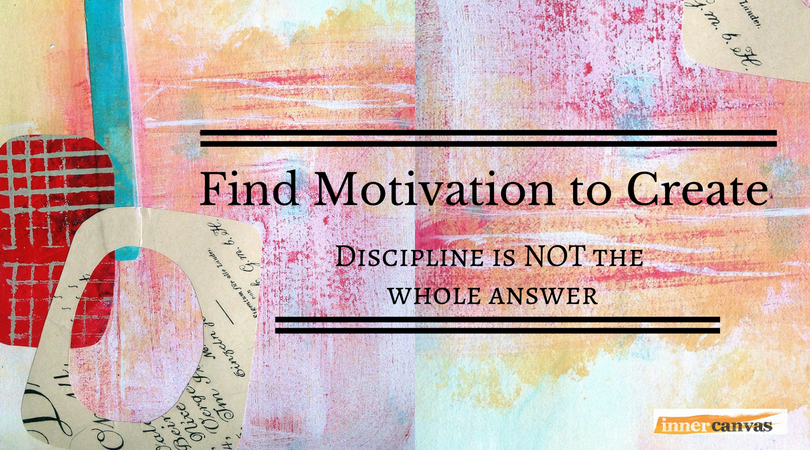 What's the number one question I hear from clients?
It's not, "What's wrong with me?" or "Can you help me?" or even, "Will things get better?".
The number one question I hear from clients is, "How can I get myself motivated?"
Art therapy sessions are full of colorful expression.  Sometimes clients paint, sometimes they write, sometimes they assemble mixed media into meaningful collages.  No matter what kind of creativity my clients use to heal in session, the experience of creative expression in a safe therapeutic environment leaves them with the sense that more art would be a good thing.
In fact, research supports this.   Tamlin Connor (2016) found that subjects who were creative on one day experienced more flourishing and positive emotions like energy, enthusiasm, and excitement the next day.  Connor's research concluded that engaging in small daily acts of creativity may influence overall well-being rather than simply making us feel good in the moment.
In session, as part of my role of therapist, I supply the motivation for my clients to create.  I carefully craft invitations that both peak my clients' curiosity and feel manageable or safe enough.  If my client is unable to begin, I supply the gentle compassion that is a carefully calibrated on-ramp to their creative activity.  I'm a cheerleader, a coach, a nurturer, and a space holder.  It might not look like much from the outside, but clients feel it and are enormously appreciative.  And, like I said, they end the session by asking, "How can I find the motivation to make art at home?  It just doesn't feel the same as it does here in session?"
A few clients should NOT be making art alone.  For these folks, emotional safety is a very tricky issue.  Their art can trigger them to dissociate or become overwhelmed with despair or hopelessness.  It is not a matter of motivation for these clients.  Their defense against these states is wise and protective.  I tell these clients that they should not force it.  They should not judge themselves.  They can find other ways to use their hands to safely create—like handwork (knitting, crochet, embroidery) or gardening.
For those clients that art making is not a trigger and is a safe, healthy activity, I recommend they do more.  And, I let them know that discipline is NOT the whole answer.  Instead, I have a 5 step motivation recipe.
I'd like to share it here for both therapists and clients—we could all use more art and creative expression in our lives.
If you lack motivation, here's what to do.
Motivation to make art requires the following:
Care:  You must be caring for and about yourself.  This means basic self-care like rest, nutrition, and hygiene.  Understand that self-care is always a work in progress—not something to perfect.  If it is not something you are working on, it will be very hard to find motivation to make art.
Curiosity: You are hardwired for curiosity.  The brain seeks novelty and this fuels your search for things that spark your interest. Many clients are numb to the sensation of curiosity.  They need help identifying what it feels like when they become interested in something new.
Courage: You don't need much—but there is a leap that art asks us to take.  When clients go from blank page to a mark on the page I acknowledge it as courage.  Practice and recognition boosts courage to do this leap over and over again.
Compassion: Creating a criticism free zone around art making can be achieved through a commitment to self-compassion.
Here are the 5 steps to motivation that I teach my clients:
Make a pros and cons list. What are the costs of NOT making art? What is the worst that can happen? What do I stand to gain? Etc.
Learn to recognize curiosity. "No's" feel flat and unresponsive. "Yes'" have fireworks.  "Maybe's have sparklers."  Rather than ask, "WHY am I curious?" just do #3.
Just do it for 2 minutes. Tell yourself you only have to start and nothing more. Renew this every day instead of committing to a long term regimen.
Slather on encouragement—even if you have to say it out loud and don't really believe it. Use positive statements that affirm your start. Acknowledge the feelings that you have surrounding art making.  Exercise empathy and compassion for those feelings.
Celebrate! Notice your act of creative expression as a beneficial experience. Be your own best cheerleader.
When I teach these steps to clients in session, they can apply them outside of session when it is time to approach their art making.  It is exciting to hear the benefits that clients report as a result of implementing these steps and using the recipe.
I hope this recipe helps you and your clients to find the motivation to create over and over again!
Source: Conner, Tamlin. "Everyday creativity as a path to flourishing",Journal of Positive Psychology, Nov. 2016 (online),www.tandfonline.com/doi/abs/10.1080/17439760.2016.1257049?scroll=top&needAccess=true&journalCode=rpos20