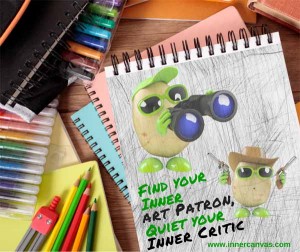 Last week, we explored the role of art patrons throughout history and highlighted the mutual benefits that artists and their patrons enjoyed.  I also encouraged you to view therapy as your art form, and to examine the role that your inner art patron has taken in supporting your art.  You can read the entire blog here. 
Your inner critic can spew paralyzing criticism.
Your inner critic knows exactly how to throw you into a doubt-filled tizzy.  Precisely what to say, exactly what to pick on, how to keep those thoughts cycling around in your head—these are all part of your inner critic's job description.  It's easy enough to embrace the idea that your inner critic is actually trying to protect you with these seemingly heartless actions.  That your inner critic loves you just as much as your other parts, and is motivated by loving, mama bear type intentions. Yeah, Yeah. But, the big question remains, What do you do about an inner critic who is so loud and obnoxious that you can't get on with your art?
How do you quiet your inner critic so you can continue creating your amazing art?
My answers go back to your inner art patron.  Remember how much your inner art patron believes in you?  How he/she supports you in the various ways that are necessary for you to make your art?  And how your art patron has already given you a vote of confidence?
Your art patron holds a particular space for you.  He/She understands that there will be ups and downs, mistakes and successes, and really gets the idea that you don't need to be monitored.  The space is enough support.  It says, "No matter how it looks, or what you make, it is your art, and I support you in that endeavor."
I think where we run into problems with our inner critic is when we allow him/her direct access to us.  We listen without a filter or a buffer or a mediator.  And this direct access gives our inner critic power in a domain that actually belongs to the art patron.
Let me give you a real life example.
In 2001, I had the privilege of being hired by Jack Goswick, Ed.D. to work as an art therapist for his juvenile sex offender treatment program.  He was the ultimate art patron because he gave me a perfect art studio space, a healthy budget for art supplies, and free reign to create an art therapy program that complimented his residential program.  I was in heaven.  I felt supported, liberated, inspired.  He didn't micro manage. But he was there when I needed to talk through my ideas.
I decided that I wanted to build a darkroom and start a therapeutic photography class.  My art patron, Jack, was enthusiastic and intrigued.  He presented the new plan at a staff meeting.  Some of the staff were supportive, but a few were highly critical.  They shot down the idea with worse case scenarios conjured from the idea of a bunch of juvenile sex offenders being in the dark together.  They questioned the therapeutic benefit and judged my abilities to create a classroom environment.   I could barely sit still in my seat.  I wanted to bolt out of the classroom, past the noisy guinea pig pair, and never come back to work.
Jack heard all of these responses calmly. He said to his staff, "We're going to let her try and I'm going to support her in any way I can.  Some of your concerns are valid, but they are not constructive.  If you'd like to give suggestions that would help her implement this group, set up a meeting.  If not, direct your complaints to me."
There was a meeting.  Several of the teachers and therapists joined me.  We strategized about a safely plan.  We made a list of criteria that students had to meet before being admitted into the group.  We integrated some of the therapeutic objectives with the individual therapy objectives.  It was very cool.
I got to make a darkroom and teach my therapeutic photography course for 2 years.  My art patron supported me in making it happen.
Here's the key that I see from that real life example:
In that meeting, I wasn't in a position to argue with the critics.  I couldn't defend myself in such a hurt state. I felt bullied and shut down.  All I wanted to do was run.
Jack Goswick was the one who stepped in and talked to my critics. He acted as my patron and remained supportive of my art even in the face of judgment.  He, not I, had the power to hold the space.  And he did so without waffling.
You see, if you let your art patron handle talking to your inner critic, you have a better chance.  So does your art.
How can you do that internally?
How about getting really clear on what your inner art patron would say in a situation like mine?  What would your art patron say if you encountered your inner critic the way I experienced the staff?  Write a script, imagine a play, get into the dialogue.  Because if you ask your inner art patron to do the talking, you will catch a break.  This way lets you continue on with your art and bask in your patron's support.
What are some of those most patron like things you can think of to say?  Try them on, share them here.
The next time you run smack dab into your inner critic and start to wallow in professional self-doubt (i.e. wonder if you are any good at therapy, believe that you're better off working at Starbuck's, or just plain question whether you can help people) consult your inner art patron first.  It will feel so much better!