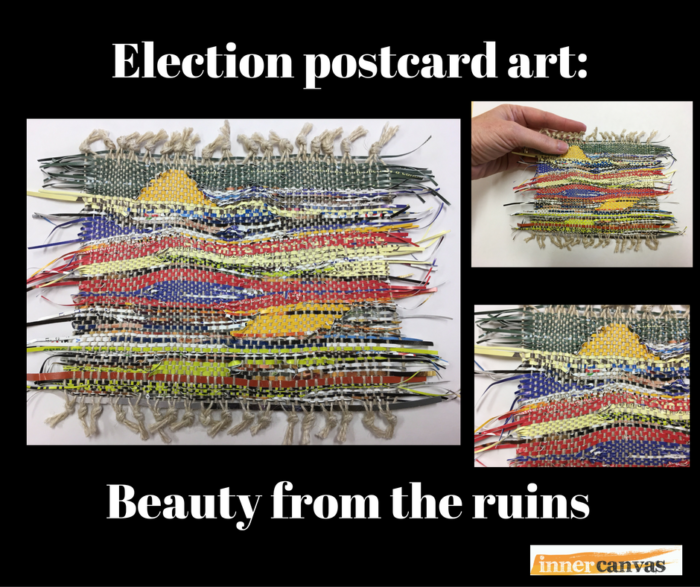 In times of fear and uncertainty, before I coax myself to embrace the unknown, I go back to what I know for sure.  It's always same three things: my basics–the things I am certain I can do no matter what.  On Tuesday, Election Day 2016, I found myself clinging to and then landing in these three things. It was good.  Very good.  I want to share them.  Perhaps they will inspire you and your clients.
In know I can teach.
I can teach people to squeeze hot glue onto buttons and sea glass and to use formerly meaningless objects to make something life affirming.  I can teach people to throw paint onto paper and create an experience of complete freedom.  I can teach people to mesmerize themselves with rhythmic knitting, their needles, yarn and hands becoming a relaxed collaboration.  I can even teach people to love themselves—though sometimes that takes a very long time.
I know I can love.
My love is a comforting constant. I love my clients, my pets, my friends, and my family. I love my coffee.  I can share my fierce heart easily because it is strong and real.  If it ever wavers, I can go out in nature and feel love the instant I look at tree bark or hear water flowing.
I know there is beauty in the ruins and I can always find it.
As therapists, we are highly trained for this type of activity. Every day, in every session, we must delve into another's state of ruin—the failed marriages, the tragic deaths, the self-loathing and self-abuse, and the abyss of despair. We face it with our clients like archaeologists excavating a dig site.  With our compassion and love, we comb over every detail searching for the beauty.  We are a committed bunch, dogged in our search to find what we so passionately believe.  That there is beauty there—somewhere, under all of the shit and darkness.  Sometimes, all we have to do once we find it, is point to it.  "Look!  There's beauty here in this tear falling from your cheek.  It's a diamond. "
Other times, we don't find something to point to and we have to work to transform the ruins.  This is where our hands come in.  We have to be willing to hold the ruins in our hands—make contact and really feel—then we can create something new, or changed, and beautiful.  This process is always miraculous.  When we bring our ability to teach and our love to this process—we heal—boy-o-boy do we heal.  Each time we do it—whether alone or with a client—we are practicing the art of finding beauty in the ruins.  It is an art.  A necessary art.
Then there is the election.
And so that brings me to the election.  When my kitchen counter was becoming flooded with election postcards, I couldn't stand the waste.  The flashy colors and headlines were ugly.  I was overwhelmed with the money spent, the paper squandered, and the shear massive quantity that my one little household pile represented for the nation.  I had been pitching the daily pile into the recycling, but I decided I had to do something more.  I had to make beauty from the ruins.  So I collected a stack and decided to put the heavy cardstock to use.  I cut thin strips with my paper cutter and used them as thread in a mini tapestry.  The colors became a landscape.  And my mini election tapestry became beauty from the ruins.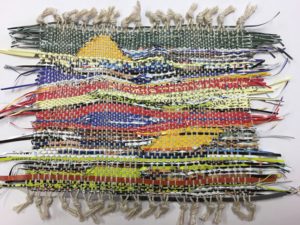 On Wednesday morning, Trump's face glared at me from the Sacramento Bee.  The color coded map of the US sirened in angry red from the front page.  The fear and hurt and disbelief slammed me into a corner.  My thoughts echoed other therapists' questions that I read in my FB groups.  "How am I supposed to go to work and be with clients in this today?"  I wasn't sure I could do.
But once again, I went back to the three things.  I knew I could teach my clients to make something with their hands.  I knew there would be paint and glue and handmade expressions of whatever feelings and experience they were having.  I also knew I could love.  I could bring my love and have it shine and be felt—no matter what the state of the nation.  And most of all I knew I could create something from the ruins—however small and meaningless to the greater problem—my hands knew how to do this.
So, I took the awful front page and the voter's handbook that was left over from Election Day to my office.  And I used it.  I tore it and layered it and found a way to put Trump's face and his words and the ruins of it all into an angel.  I gave her wings and color and a sense of possibility.  I will visit her throughout the year as a reminder of how much better it makes me feel—to go back to the things I know and create beauty from the ruins—no matter what.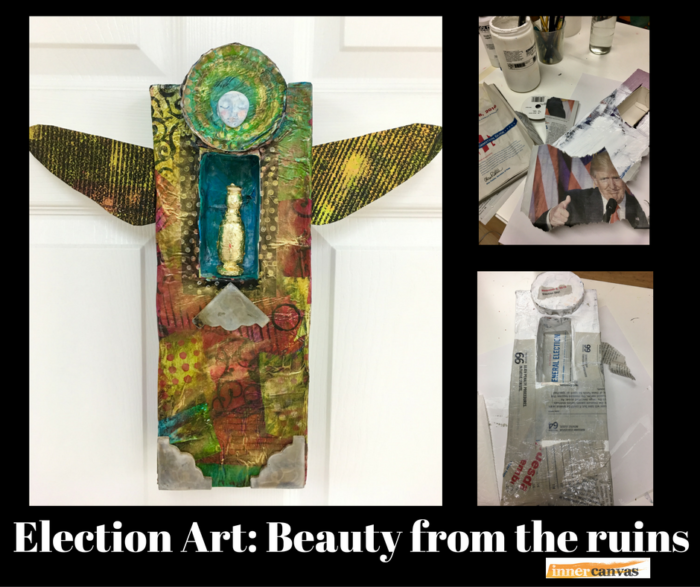 How can you use your hands to find beauty in the ruins?  
How can you inspire your clients to do the same?