I spent all year partnering with my creative process.  What I learned was surprising and quite new.  I'd love to share these lessons from my most creatively productive year ever with you.
2015 was an extraordinary year for me. When I sat down during the cold days between Christmas and New Year to take inventory of my creative pursuits for the year I was amazed.  The list is varied and long.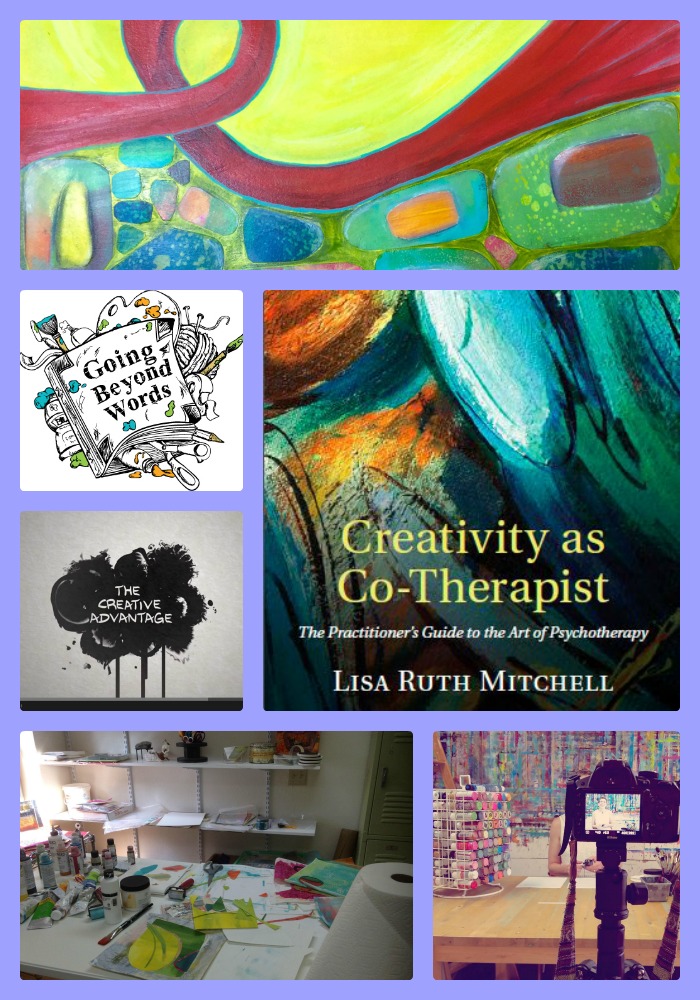 — Completing my book:  Creativity as Co-therapist:  The Practitioner's Guide to the Art of Psychotherapy (Routledge due out March 2016)
–Writing, testing, and launching my new online class: Going Beyond Words: The Art of Therapeutic Relationship
–Redecorating my private practice studio with Victorian furniture and Persian rugs (some of which needed to be refurbished by yours truly) to honor the craftsmanship that went into making furniture of that time period.
–Writing, filming, and releasing 9 videos that teach therapists how to integrate creativity into their practice: The Creative Advantage
–Attending a week long painting workshop with Jane Davies at the Omega Institute in Rhinebeck, NY
–Creating an inviting studio space of my own for painting, collaging, and napping
–Participating in an 8 week intensive art course on Abstraction with Lisa Call
I'm not here to write about the list really.
What I really want to share is what I've learned about the creative process during this productive year.
It's key.  It's foundational.
It's what will guide my creative pursuits in 2016. And maybe give you some inspiration for your creative pursuits, too.
You see, I have spent 20 years teaching people to "Trust the Process".  It's been my mantra.  It's become my students', my clients', and my workshop participants' mantra.  I've spent countless hours helping thousands of people to finally trust that within the creative process there are twists and turns and struggles—but in the end, when they trust it, things work out.
Well, at the start of 2015, I can honestly say that I held as much trust as I feel possible to hold in my creative process.  I have lived my own medicine and worked to experience the unknown and uncertainty as necessary parts of the process.
But, when I really think about my last year, it was less about trust and more about respect.
That's right.  Respecting the process is the key.
For instance, I found that "ass in chair"—a particular style of disciplined writing that many authors subscribe to—doesn't work for me.  It is disrespectful of my creative process to point my index finger straight at it and demand that it produce—even if I try to relieve the pressure by giving it the double binding message, "It really doesn't matter what you write, just start writing."
So, I'd like to share with you what I've learned about respecting my creative process.  Perhaps, by putting it out into the InnerCanvas community, we can all begin to grow and practice the respect that our creativity actually requires in order to make amazing years happen.
Time:
1. Respecting your creative process means slowing down your choice-making process.
I tend to rush choices because I've held the philosophy that once the choice is made, I feel freed up to pursue other things.  When we rush choices we end up spending too little time and we make a choice just to get it over with.  Or we rush choices by obsessively thinking on them and never letting them fully enter our creative minds.
For example: You get a call from a client who requests a complicated reschedule.  It's not an easy yes or no answer.  There's some problem solving (albeit minor) to do before it could work.  Rather than mulling it over with the intention of finding an answer with which you can respond to your client right away, you slow things down, and respect that your process needs time.  You call your client and let them know you are thinking about how this could work and will get back to them.  Several hours or even a day can pass and you revisit your choice.  Only then is it likely to be more clear—with a new idea of how it could work or a clear knowing that it won't work.
If we practice slowing down little choices— about rescheduling a client, what to make for dinner, what colors to start a painting with, or how we'd like to spend Friday night—we practice respecting our creative process (which is also choice making).  Then we can slow down for bigger creative endeavors.
2. Respecting your creative process means scheduling time for incubation and settling in.
When I'm working on big projects like my book or video series, I block out time.  Big swaths of time.  For my book I went on 3 day retreats once a month when I had nothing but writing time allotted.  At the beginning of the year I would look at my calendar and see the wide expanse of empty days and imagine the blissful, uninterrupted hours of producing.   Now I see that many of those days were spent NOT writing.  And, in respecting my creative process, I had to come to respect the need for scheduling, settling in, and incubating.
For example: You vow to make more art this year.  You schedule a half day once a week.  It is yours and you covet that space.  Finally, you've made the decision to make time for your art.  You anticipate the first time slot and drool.  You imagine the art that will come pouring out—at last.  Rather than expecting yourself to start a masterpiece on that first day, you spend some time scribbling.  You experiment with color mixing.  You try on various sizes of paper.  You ease yourself in and respect your creative process.  You slow things down and value the time it takes to settle just as much as the actual time you spend on your art.
Creativity is not like getting water from a hose.  It is more like a maintaining and using a well as your only source of water.  To live and produce creatively means that you prime the pump with whatever it needs before you turn on the spigot and expect the creativity to flow out.  You monitor the water levels.  You tend to your well.  When you respect your creative process, you accept its finicky nature and take strides to work with it rather than work against it.
Discipline
3. Respecting your creative process means embracing discipline, structure, and accountability.
I have a new admiration for artists of all kinds as a result of my creative work this last year.  The bare bones truth about being creatively productive is this:  You MUST work hard. At the start of my book, I thought that the words might just flow out of me as a result of the passion for my subject.  That if I embraced my inner author fully, it would be easy enough.  This is not true.  It wasn't true for any of the projects I did.  And, sometimes it even looked entirely too hard. Like when I rented a truck and drove 3 hours each way to pick up a gold velvet, wood carved couch from the 1800's because it had the perfect vibe for my new office décor.  Sometimes people make fun or doubt you.  But you do it anyway, because that what it means to respect your creative process.
You just have to show up.  There is NO way to be creative without showing up.  If you don't show up, if you don't put in the effort, it is just plain disrespectful to your creative process.  You can't "sort of" create.  You can't "halfway create".  If you want to create something—even if it is something small—trusting that your creative process will happen is one thing.  But, really and truly, respecting your creative process means that you discipline yourself just the right amount.  You learn what it takes for your creative pursuits to happen, and then you build that structure right into your life.
4. Respecting your creative process means respecting and sharing others' creative processes.
Without sharing creative endeavors with clients, friends, and other artists, last year would have been a parched expanse of nothingness.  I kept seeing 12-15 clients a week because the reciprocal benefit of collaborative therapy is full of vitamins for both my creative process and my clients'.  The painting workshops I attended and my monthly art group with therapists provided external validation for my creative self.  When you respect your creative process's need for company and inspiration, you fed it and have a lot of fun in the process.
I dream of providing a space like this for therapists outside my private practice studio.  Yesterday, when I was in between clients and turned to the mini collages I've been doing, I had an inspiration that I'd like to share.
In addition to many, many new things happening at InnerCanvas in 2016, I'd like to tell you about two new events that will satisfy my dream of inviting others to share, trust, and respect their creative processes.
CreateFest 2016
Save the date!!  It's a Festival, a Party, and a full 2 days of information from expert speakers.  It's creativity immersion!!  We will be gathering February 26 and 27, 2016–virtually.  The website is almost done–stay tuned for a free introductory webinar and registration information!!
ArtSpace
This will be a monthly virtual meet up group.  It will be kind of like an interactive TV show,  where, in live time video, I will introduce you to an art invitation we will make art together, talk about our experiences, and discuss the art invitation's application in therapy.   We will start with the art invitations that are in my book and move on from there.
This is one of those ideas that have been in the mix for awhile, but the technology can finally support it.  It will be low in price (with scholarships available) so as to be inclusive and not at all prohibitive.  Dates and time to be announced.
The sign up will be official soon.  In the meantime, respond in the comments below if you'd like a personal invitation to attend….
And, in the meantime, "Respect the Process"!