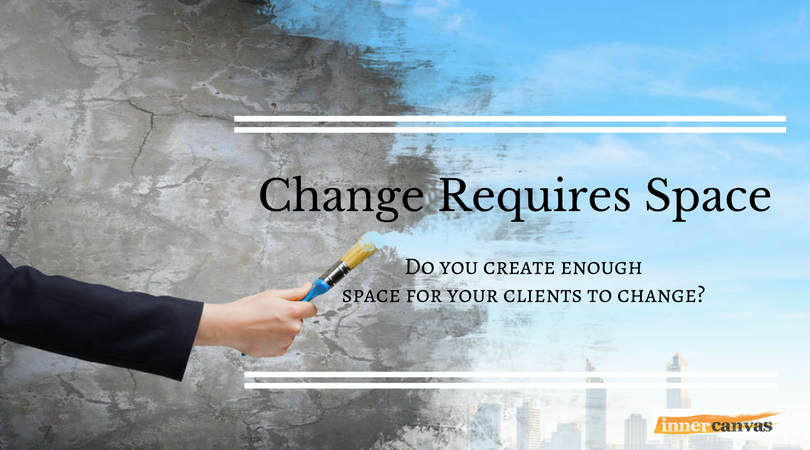 Sometimes it appears that change happens overnight.  Like there is a flip of a switch and in an instant Winter has turned to Spring.  Or a client's outlook makes a 180 and turns from unshakable despair to undeniable hope.  Or the moment appears when anger dissolves and acceptance arrives and you blink wildly because you didn't expect it and you still don't know what you did to help your client get there.  But change isn't really a lightning bolt of transformation.  It is a slow process that requires space and time and sustained effort.
Creativity is the basis for change.
When we look at the idea of change in clients, we have to give considerable credit to creativity. Creativity allows us and our clients to see new possibilities. When we think creatively, we unhook from what is already known and only then can we cultivate novel ideas. Creativity is what feeds a different story, a different experience, a different sense of self.
Poet Mary Oliver explains what creativity needs in her book, Upstream. "Creative work needs solitude. It needs concentration, without interruptions. It needs the whole sky to fly in, and no eye watching until it comes to that certainty which it aspires to, but does not necessarily have at once. Privacy, then. A place apart — to pace, to chew pencils, to scribble and erase and scribble again."
Creative thinking is part of our brain's default mode network.  In order to light up this part of our brain, we need to step away from the information overload and noise of our daily modern lives.  Engaging creatively requires carving space in our sessions for imagining, daydreaming, or just waiting to see what comes in the silence.
So, you see change requires creativity and creativity requires space.  If we want to help clients change, we need to create space.  Space to create.  Space to think creativity.  Space to see new possibilities.
Do you create enough space for change?
I have been watching for opportunities to create more space for my clients.  It's a really beautiful shift for me as a therapist.  It slows things down.  It invites me to collaborate from a more creative space.  And, I'm seeing some exciting and magical things happen.
Space during session:
If we go to fast, talk too much, implement a jam packed agenda we are not creating space during session.  We need to allow for silent moments and spontaneous discoveries.
How to create space during session:
Invite art making.  Each time a client faces a blank piece of paper or canvas, they are literally experiencing space.  Some clients find this very challenging.  The anxiety of the unknown or the "how to do it right" floods in.  If we enter the space with them and gently invite ideas, possibilities,  and reassurance we are creating space in session.
Invite further exploration with art.  When a client finishes their art making in session, I have found that this is a crucial moment. It is tempting to dive into discussion or explanation.  Our clients want to make contact with us and their art—to try to understand it.  But, if we create space here—in this already ripe with creativity moment—we are suspending linear thinking and inviting even more creativity.  I like to ask, "Is there anything more your art needs?"  Or I often say, "Let's just sit with your art for a moment and feel into it a bit."
Space for imaginative linkage between session and day-to-day life:
When a client has a new insight in session, it is not enough to simply acknowledge this novel experience.  We need to help our clients link the newness to their day-to-day lives.  We can do this by inviting them to use their creativity and imagine what the changes will look like.
How to create linkage:
Ask the client to imagine the new insight or skill in a variety of situations.  This can feel repetitive and slow, but it is so very helpful.  You are literally asking a client to create space in their day-to-day lives for the new skill.  If they are able to rehearse it happening in a variety of circumstances with their imagination, it is more likely to happen.
Ask questions instead of inform.  For example, you've been working with a young client to develop assertiveness and he's been able to represent assertiveness in his art and with physical movement during session.  He's embraced the new skill well.  Rather than inform him how this new experience could change his relationships with peers, ask an open ended question.  "How do you think this assertiveness stuff is going to impact your daily life?"  When you ask that question, you are once again, creating space for his imagination to swoop in and link his session experience to his day-to-day life experience.
Space in real life:
We need to help clients find space in their lives for change.  Creative space 50 minutes a week is great, but carving out space in daily life is a challenge that needs support.
How to create space in real life:
Recommend a get-away.  Summer camps, retreats, a new club are all environments that create literal space from daily life. When clients get the chance to interact with new people in new environments, they have greater permission to be different from their "back at home" selves.   I've had several teens return from their summer camp experiences with amazing reports.  Prior to their camp weeks, we focused on reviewing the new skills they'd acquired in therapy that they'd like to be aware of at camp.  Because the context was so different and they were free from the relationships at home that didn't give them space to change, they had space and time to experience themselves differently.
Identify a specific time and space.  I've been asking clients to identify a time and space during their week when they could reliably allow their brains to relax into default network mode.  This might involve art making, but it doesn't have to.  Many of my clients use the last few minutes of the day, right before they fall asleep, to imagine a video of themselves painting a relaxed, safe, or soothing canvas.
Our offices are havens of space in a crowded world.  When we see the role of space as it relates to creativity and change we have the privileged position of providing unique opportunities for our clients.