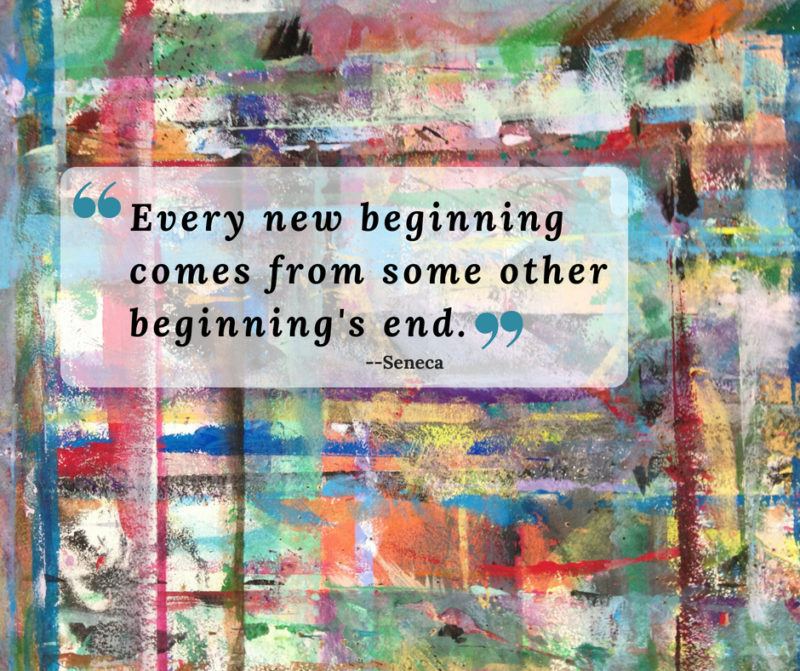 Closing my doors
After 16 years in private practice I've closed my doors.  From my initial decision — to the months of transition — and now the actual closure, it's been a profound process. (If you missed my initial announcement, you can read more about my transition here and here and here.
Historically, I've been terrible at goodbyes.  I'm the person who doesn't show up for last sessions.  I'm the person who will say, "We'll see each other again, so this is not goodbye." I was tempted to pretend that my last therapist group was just the final week of an eight week series.  I wanted to shoo everyone out the door and tell them not to be sad. But I didn't.   And I think I got this last goodbye right.  I want to share it, because in the process I've come up with a simple, magic recipe for a GOOD goodbye.
Here's my recipe for a GOOD goodbye:
Write to this prompt then share. Today marks the end of…………..
Write to this prompt then share. Today marks the beginning of…………
Give stuff away or receive the stuff—depending on what side of ending you are on.
We did this during the last therapist groups I facilitated at my art therapy studio.  Like I said, it turned out to be the magic recipe.
Step one: Write about what is ending.
When we acknowledge the ending of something, I now know that it really helps if we can articulate what is ending.  This goes beyond the usual expression of emotion—the sadness, the grief, the disappointment.  This has us say in our writing (and then out loud) what it is that will no longer be.
Here's a sampling of what I wrote and read for the groups.
Today marks the end……
Today marks the end of the door chime that announces the arrival of an open-faced, open-hearted beauty who is ready—ready to dive in, express, explore, create.
It's the end of sitting around the painted on, glued on, cut into Ikea tables—the lousy chairs whose pillows slide and many end up using them as back rests instead of seat cushions.  No more sitting around, checking in, "finding the thread" as I've come to call it—so that the last meeting slides into the present–into our current experience and we add on, more unity, more expression, more art.
It's the end of the shelves crammed full of art junk and art mediums.  The stacks of oil pastels that are now stumps, broken and peeled.  The jars of matchsticks and broken windshield glass and old buttons from my grandmothers' collection are no longer necessary for the creative chaos that they lend to the décor.  No longer needed for the inspiration.  Not even for that last finishing touch on an altered shoe or book or doll. 
Today marks the end of guessing which lotion someone used during their trip to the bathroom.  And the gratitude I feel when they re-enter our creative circle, freshened, massaging the fresh scent of lemon or sage or lavender into the hands that have been only moments before immersed in paint or chalk or glue.  It's the kind of gratitude that puts me in touch with love for that person, so visceral, and for the moment of gathering and willingness to "go there" with me.  The gratitude that says thank you to something greater that has coached me here—to a place where these gatherings can happen and others can love themselves, their art, the expressions the way I do.
Tonight I will set the alarm like always.  I will lock the door behind me.  And I will marvel at what we've done here.  Today marks the end of The Art Therapy Studio.  The end of 7985 Park Drive.  But I guarantee, it is not a dead end.  I will carry it with me.  And you will carry it with you.  And in that way—our creative process, our love, our willingness to dive in will go on and on and on.
Step Two: Write about what is beginning.
There's a band called Seminsonics whose song, "Closing Time" is quoted all over the internet.  The lyric goes, "Every new beginning is some other beginnings end." When I realized how true this is, that you can't have an ending without a beginning just like you can't have day without night, I knew I had to add this to my goodbye recipe.  Even if there is a transition period after the end, where you don't know what's coming for sure, there is a new and different something.  A beginning (no matter how unclear) starts the moment the ending happens.  So we wrote about the beginning.
Here's a sampling of what I wrote and read for the groups:
I hear, that in Japan, they use the term second spring to describe when you feel foolish and childish and do things your responsible adult you wouldn't do.  For me, it's when you shut down your life work in order to start something new—without knowing what that new thing is, without knowing where it will take you, without knowing much of anything.  The perfect example of a second spring is buying a herd of guanaco and not knowing the first thing about handling or caring for wild, exotic animals.  But I've done it.  Today marks the beginning of fully embracing my second spring.
Today marks the beginning of packing up the studio, taking down the art, finally emptying the tea basket and calling it good.  It's the beginning of a long haul—a month of moving boxes and pets and the herd to another state.  The trailer might not be bought yet, but the movers are on stand by.  They know about beginnings—from the inside out—all that personal stuff crammed into one small area, hauled long distances without the owners.
Today marks the beginning of a relationship with my rhythm to create that I've never been able to fully live.  It's the beginning of mornings that begin with a question, "What do you want to make today?" It's the beginning of finding my thread and sticking to it—because I'm curious or because it feels good or because I know there is something there that I just can't let go of.  It's the beginning of learning my style again, hearing the words that want to line up on the page freely—all at a pace that feels right, internally calibrated, luxuriously earned.
I remember a time between high school and college where I marveled at the idea that I didn't have any project with a deadline. I felt free and completely untethered.  I could think thoughts that didn't have to relate to the topic or the research or the problem I was trying to solve for my professor.  I could think thoughts that were random and happy and follow them without aim, without discipline, without dictation.  I've been happy in my life—alot.  But when my thoughts were free in that gap year—I think I was happiest. 
And so today marks the beginning of thinking my own thoughts—not for a client or a class or a book or a blog post. It's the beginning of knowing myself from a new perspective—like from the fingertips on up to the hands and so on.  It's also the beginning of having time to notice those fingertips and how it feels to touch luxury fiber as it spins itself into yarn. Or how the computer keyboard feels after days and days of writing for my own curiosity. Or how my muscles feel after the longest farm work day I can stand.
Today marks the beginning of a life change.  A second spring, as they say.  It's the beginning of something wonderful.  I'm all in.
Step Three: Give stuff away and/or receive
I thought I was complete with the writing and sharing.  But it turned out that the recipe required another step.  I wanted to share pieces of my studio.  And all the lovely people came and picked up art supplies by the bag load.  Shelley picked out all kinds of mixed media stuff for her Project Flourish group to make collage.  Gloria hauled away the butcher block art table and chairs.  Jamie took the painting panels.  Barbara found a ceramic bowl I'd made in graduate school and held it to her breast, she will cherish it.  Lyla has the life-size frame for a photo booth prop and a lot of other good junk.  Renee took the broken windshield glass and divided up the acrylic paints with Colleen.  And Kim brought her daughter Lily who picked out her very own hole puncher.
I felt like parts of the magic were dispersed like dandelion seeds in the wind.  And that feels right.  Others will continue the work with clients, in their home studios, maybe even with each other.
I read this John O'Donahue poem as send off.  It's one I have read to myself and to clients forever.  I hope it inspires you for your new beginning…whatever that may be.
Blessing for a New Beginning
In out-of-the-way places of the heart,
Where your thoughts never think to wander,
This beginning has been quietly forming,
Waiting until you were ready to emerge.
For a long time it has watched your desire,
Feeling the emptiness growing inside you,
Noticing how you willed yourself on,
Still unable to leave what you had outgrown.
It watched you play with the seduction of safety
And the gray promises that sameness whispered,
Heard the waves of turmoil rise and relent,
Wondered would you always live like this.
Then the delight, when your courage kindled,
And out you stepped onto new ground,
Your eyes young again with energy and dream,
A path of plenitude opening before you.
Though your destination is not yet clear
You can trust the promise of this opening;
Unfurl yourself into the grace of beginning
That is at one with your life's desire.
Awaken your spirit to adventure;
Hold nothing back, learn to find ease in risk;
Soon you will be home in a new rhythm,
For your soul senses the world that awaits you.
–John O'Donohue