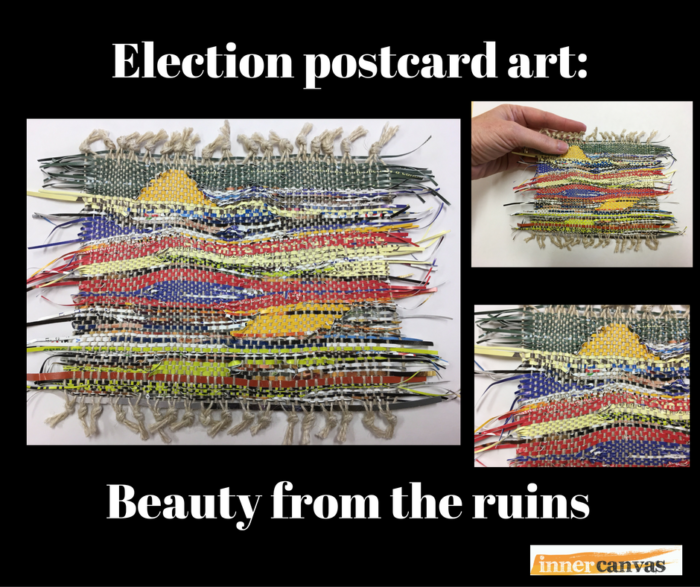 In times of fear and uncertainty, before I coax myself to embrace the unknown, I go back to what I know for sure.  It's always same three things: my basics–the things I am certain I can do no matter what.  On Tuesday, Election Day 2016, I found myself clinging to and then landing in these three things. It was good.  Very good.  I want to share them.  Perhaps they will inspire you and your clients.
In know I can teach.
I can teach people to squeeze hot glue onto buttons and sea glass and to use formerly meaningless objects to make something life affirming.  I can teach people to throw paint onto paper and create an experience of complete freedom.  I can teach people to mesmerize themselves with rhythmic knitting, their needles, yarn and hands becoming a relaxed collaboration.  I can even teach people to love themselves—though sometimes that takes a very long time.
I know I can love.
My love is a comforting constant. I love my clients, my pets, my friends, and my family. I love my coffee.  I can share my fierce heart easily because it is strong and real.  If it ever wavers, I can go out in nature and feel love the instant I look at tree bark or hear water flowing.
I know there is beauty in the ruins and I can always find it.
As therapists, we are highly trained for this type of activity. Every day, in every session, we must delve into another's state of ruin—the failed marriages, the tragic deaths, the self-loathing and self-abuse, and the abyss of despair. We face it with our clients like archaeologists excavating a dig site.  With our compassion and love, we comb over every detail searching for the beauty.  We are a committed bunch, dogged in our search to find what we so passionately believe.  That there is beauty there—somewhere, under all of the shit and darkness.  Sometimes, all we have to do once we find it, is point to it.  "Look!  There's beauty here in this tear falling from your cheek.  It's a diamond. " Read More… »