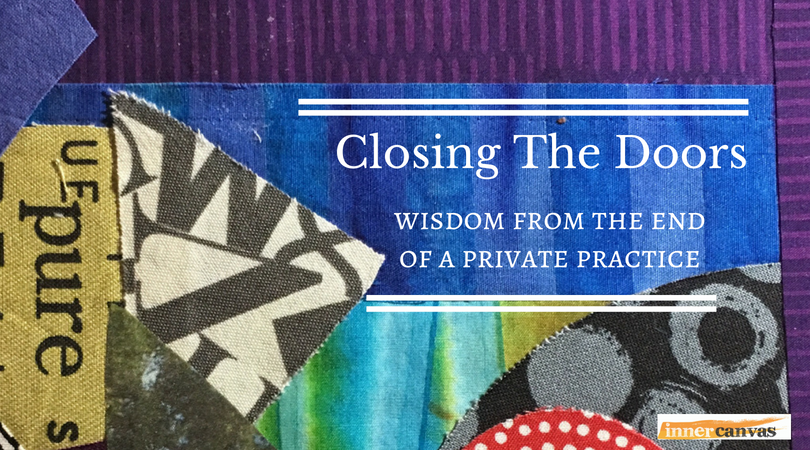 We can learn from people at the end.
When people are at the end—end of life, end of a relationship, end of a long hard project—they have a unique viewpoint that can only be gained from having lived through it to the very end. I've always listened a bit harder to the folks who are generous enough to share their view from their last stop.  When we pay attention to their wisdom, we benefit. So, since I'm at the end of a successful private practice, I want to share something that only now, 2 weeks away from closing my doors, I have come to understand clearly. (If you missed my initial announcement, you can read more about my transition here and here.)
I didn't come to this understanding all by myself.  As is often the case these days, the combination of art and writing helped me arrive at this beautiful conclusion.  I want to share it with you in hopes that it inspires you to build your work-life so that it feeds you, heals you, and sustains you. Just like mine did for decades.
Let me tell you the story.
On Saturday, my friend, Terri invited me to come and play in her quilting studio.  Her text with the address and gate code also said, "Perhaps you'd like to make something with the theme of goodbye." She mentioned that we could print meaningful photos onto silk organza and incorporate the silk image in a mini quilt.  I felt seen.  A little found out, actually.  She was giving me what I have given so many others.  A space to process through art making.  I wasn't sure I wanted to do it.  I told her that it felt vulnerable but I supposed I needed to.  I wondered if I really had anything to express because I seemed okay with it all—like it was happening and I just needed to let it.  But, I went with it because I was curious and wanted to excavate anything that could lie dormant and mess up the new beginning I'm about to embrace.
In her studio, one walk lined with floor to ceiling shelves that hold fabric folded like books, Terri began searching for images on her Mac.  She pulled up my office address on Google maps.  A surge of nostalgia hit me.  The neighborhood showed first.  I recognized the parking places in front of the swing-set in the park across the street.  She zoomed in and I saw the next door well-house.  It's the fenced-in water resource building that gushes water into the huge pipe system near the back door of my office.  And then, there it was–my office building.  Google showed a spring picture with the trees in full foliage.  The eucalyptus trees tower over the roof.  These are the branches that the chickens use now to roost. They fly from the porch overhang to the highest branch they can reach and then spend the night leaving their markings all over the driveway.
Terri printed a miniature version of the Google maps picture and handed it to me.  She also printed my logo—the one with a green paint palette that says "Beyond Words" in white.  Desales Linton of Electrical Soil made that logo for me at least 15 years ago, when websites were just html pages.  When I couldn't change anything on my own because I didn't know how to write code. This was the same logo that traveled with me faithfully—from my first office to my second, and now to this one—the very one of which I can hold a picture, printed on silk organza, in my hand and feel amazed.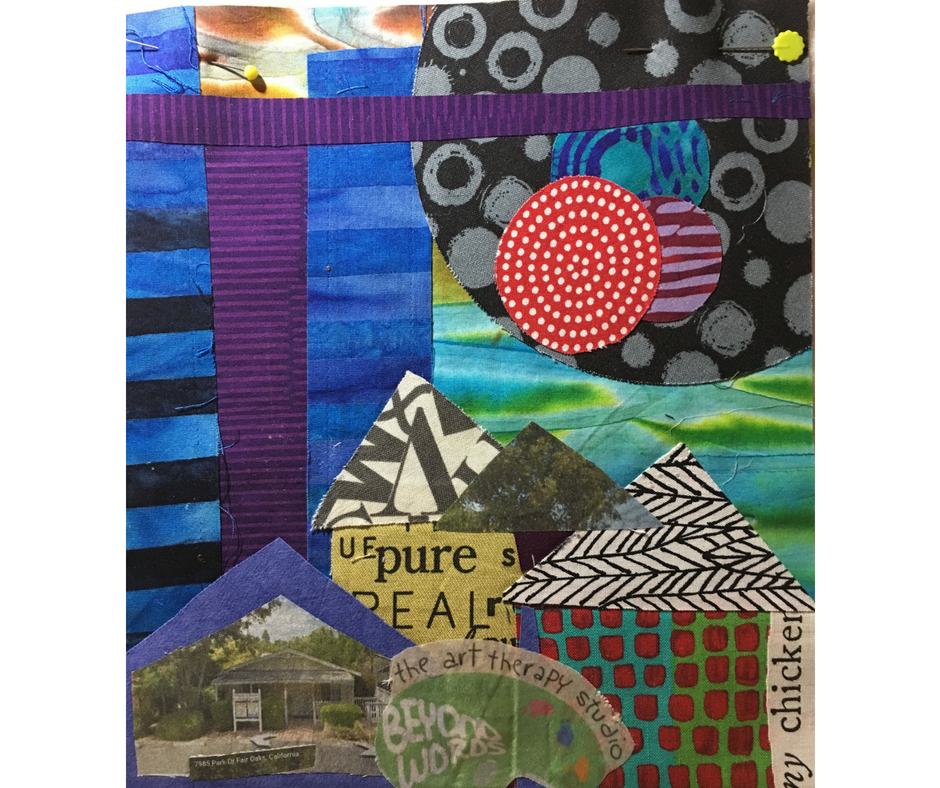 I proceeded to build the quilt with scraps of colored fabric.  Terri showed me how to fuse them together as I went.  I chatted with her as a small village began to show itself in my art.  My office is there and some other wonderful buildings.  One made of words, one of bright painted colors—lime and red and orange, another with a roof made out of trees.  There are orbs of color floating in the sky above, deep purple, red polka dots, teal swirls.  I sandwiched some cotton batting between the collage and a backing and told Terri I wanted to come back another time to sew it.  I thanked her for giving me space to let my art express what I hadn't been able to say in words.
The collage lived in the back seat of my car yesterday, and I listened to it as I loaded groceries there and a stake for the new wisteria vine in the front yard of our Carmichael home that is about to go on the market.
Here's what my art tells me and what I want so badly for you to know.
7985 Park Drive is my first place of belonging.  When I moved my office there in 2010–after Cheryl and I built walls and filled in doors and added storage and an industrial sink—when I sat at the huge group tables with the wall panels for hanging paintings surrounding me—I couldn't believe I'd done it.  I'd built a business that fit me.  For the first time in my life, I had friends who wanted to make art with me.  I had clients who wanted to do deep creative healing work.  I had a building that could support it all.
I used to walk into the office in the mornings before the sound machine was turned on and before the baroque music was playing for ambiance.  I used to breathe in the musty smell of acrylic paint and the dirt basement rising up through the old heating ducts.  I used to feel a flood of being home that was special, marvelous.  A sense of mineness.  Queenness. I felt pride and comfort all at the same time.
Feeling like I belong is a feeling I have waited for my entire life.  I didn't grow up with artists.  My passion to create was a side-gig that I had to do all by myself.  Friends weren't interested in coming over to make stuff with me.  High school and college gatherings were social exchanges with small talk and partying.  As young parent connections happened at sporting events and school volunteering opportunities. Before Park Drive never in my life had I had someone invite me to their studio to come play.  Never had I had friends who longed for uninterrupted creative time.  What I wanted most, to connect with others on an intimate emotional level through art seemed impossible.  I used to think I was a freak who had to keep this wish hidden in order to fit.
But my longing ended at Park Drive.  My freak status became a disproved identity. The community I formed there, The Art Therapy Studio Community, is an externalization of all that was (and still is) most important to me.  The community I formed has shown me this: With art and love and relationship, we join and heal.   I'm going to a new community that happens to share and live this belief.  Which will be so wonderful because I already feel a sense of belonging. I can take my quilt with me as a reminder of what happened on Park Drive.  How my business became a source of healing and self-acceptance.
This is what I'm trying to tell you from my view at this endpoint.
When you follow your longing and invite others into it, you heal.
As artists and therapists, I think we are at a particular advantage because we tend to be folks who are willing to risk.
Invite each other in!!
If you have a wish for creative time, emotional expression through art, space to write and share….whatever it is….INVITE EACH OTHER IN!  Form a therapist group with the explicit goal you want to achieve.  Set dates and commit.  Then show up, gather, and be vulnerable with each other.  Ban case consultation and, instead, talk about your experience being a therapist.  Stop judging one another for therapeutic effectiveness or soundness of personality.  Value each other's unique experiences and expression.  BE with each other.  You will grow and so will your business! I know this because that's what happened to me.
If you'd like specific art activities to do in a therapist group, take a look at the last chapter in my book, Creativity as Co-Therapist.  I have a list of some good ones!
I'd love to have you share your experiences.  How has your business helped you heal?  What are you doing to try to help that happen?