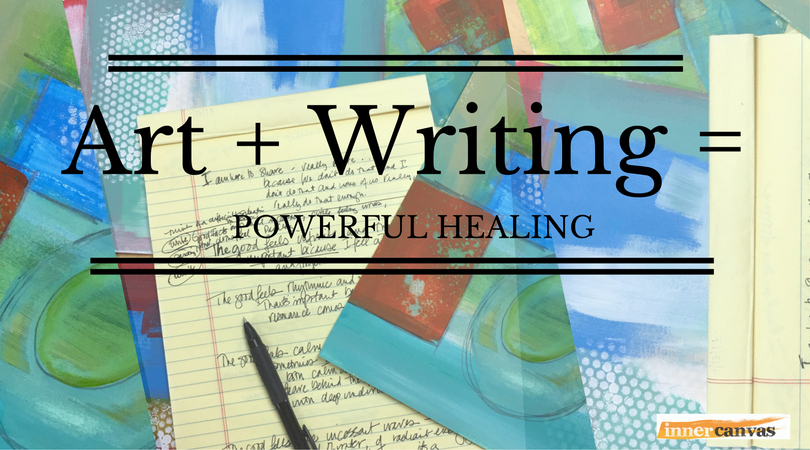 The combination of writing and art in a session is more powerful than either activity alone. 
I'm an art therapist, and I use art in therapy.  Art making is an experience that my clients rely on to make sense out of that which is not easily translated into words.  I "speak" art and teach my clients to do the same.  Art is powerful and so very transformative.  It's what I've used as a healing modality for the last 20 years.
As a result of my writing adventure in Bali with Laura Davis, I realized how invaluable writing can be as a healing experience. The power of the written word is not unfamiliar to me.  I am faithful to my journal.  I sort through thoughts and new ideas with my keyboard.  I sometimes write letters to figure out what it is I truly want to say. Writing is important to my ability to understand and communicate.  But in Bali, I connected with the experience of writing in a new way.  Writing became, for me, another creative process that, when shared with others, is a vehicle for meaningful connection. 
Since I've returned from Bali, I've been inspired to bring writing into my work with clients.  What I've discovered is profound.   When I integrate writing into an art therapy session, my clients' find that their creative expressions (both the writing and the art) have greater impact.  The writing solidifies the art.  The art informs and inspires the writing.  There is a reciprocal relationship between the expressive word and the non-verbal art.  It's as if the writing voice allows those thoughts that can't quite be uttered out loud to appear on the page. Which then paves the way for sharing those very quiet and personal thoughts to be shared.
I have also been incredibly moved by the writing and art integration my Artspace Therapists' Group is doing.  The deepening that writing invites makes such a difference.  It's like adding that all important bass line to a jazz piece.  The tune was great, but with the steady driving bass, it becomes rich and compelling.  Something really worth listening to.
Here are some ways to integrate writing and art into session:
After a client makes art (you and client will have determined the specific art invitation), before they talk about it with you, ask them to finish a stem sentence. They do this by writing the beginning of the sentence and finishing it over and over again for about 5 minutes.
Some example stem sentences: "When I look at my art, it feels important because ____________________.""When I listen to my art, I can hear it saying________________________."
After art making, ask the client to look at her art and write a list.
Some example lists: Things that are surprising about my art. How my art makes me feel.
Start with some writing first and then proceed to art. When checking in with your client at the beginning of session, identify a moment that the client reports. One that could be useful to work on during session.  Ask them to capture that moment with their writing by bringing in all senses to their written word.  Then have them choose a sentence from their captured moment and make the sentence the art prompt as well as the title of the art.  If there is time, have them write a stem sentence or list as in #1 or #2.
After your client makes art, have them title their art. Then fill in the blank in this sentence with the title and have them write many sentences with this stem: "I am ____(title)____________, and that's important because__________________."
NOTE: Whenever a client writes in session, the sharing is hugely important.  Have your client read their writing out loud to you.  Listen intently.  The more you listen, the more they will listen to their own words.
How I Learned to Integrate Art and Writing into Session
These are just a few examples of integrating writing and art into a session.  I continue to think of new ways to try.  In order to learn some of the basics, I did go straight to some of the experts.  I mentioned my experience in Bali with Laura Davis.
I also interviewed Natalie Goldberg, the author of Living Color and Writing Down the Bones.  We talked about the marriage between painting and writing.  And how each relates to the other. Here is one of her quotes.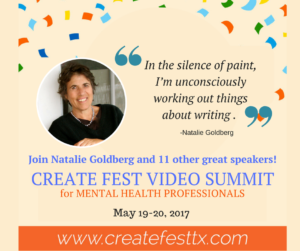 And I interviewed Laura Davis about what it takes to be such a powerful writing group facilitator.  She shared many gems about the creative process, writing and risk. Here is one of her quotes.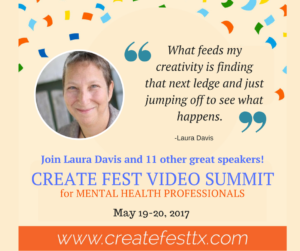 I also interviewed Kay Adams, founder of The Therapeutic Writing Institute and The Way of the Journal.  She taught me about stem sentences and how to figure out what kind of writing prompt will be helpful for a client. Here is one of her quotes.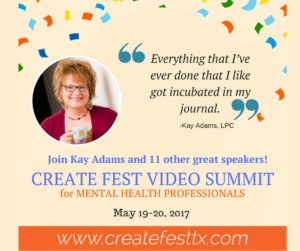 Jennie Linthorst talked to me about Poetry Therapy and the art of choosing the writing prompt.  She helped me understand the importance of introducing writing inspiration that relates to the themes with which your client is struggling.  Here is one of her quotes.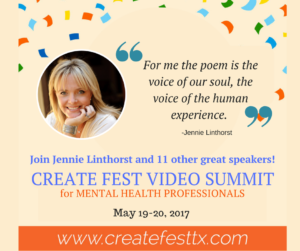 It was such a privilege to talk to these experts and get the inspiration and knowledge first hand.  I didn't only do it for myself—I did it for you, too!!  These interviews along with 8 other expert speakers make up Create Fest 2017:  The Second Annual Online Creativity Festival for Mental Health Professionals. 
If you are interested in finding out more about registration and the vibrant, interactive style of our conference, feel free to peruse the site:  www.createfesttx.com.  Early registration is going on now until April 28th which makes 12 CEU's and LOTS of inspiration available for a very reasonable price.