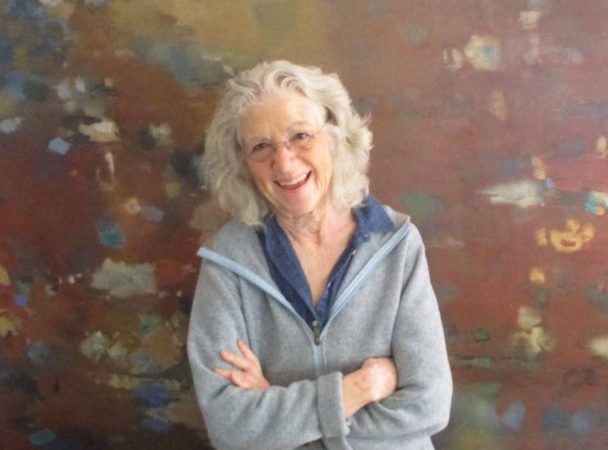 When someone so passionate and creative and beautiful believes in you, it means everything.
Susan was my professor first, and then my art therapist.  In class she handed a thin strip of paper to each of us.  She held the strips fanned out in her hand and walked around the classroom to personally deliver the message.  I read my strip.  It said, "Try Trusting the Art" in a fancy font printed in all caps on a dot matrix printer.  She could have said it directly with words, but it was powerful and special to receive Susan's hand delivered, four word poem.  It's been 27 years, but I still have that strip of paper. It's thick with the scotch tape layers I've used to post it on every desk I've used since the day I pulled it from the group of gathered strips in her hand.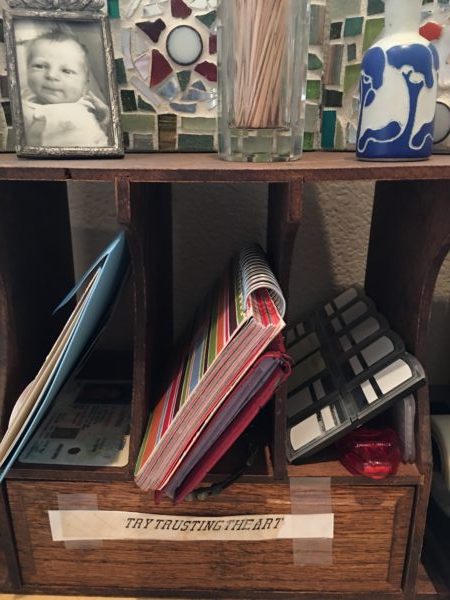 Her therapy room was filled to the brim with supplies.  She was frugal and conscientious about waste, so the paper was mostly found paper—cardboard boxes, backs of paper pads, miscellaneous piles of mulberry and vellum probably scored at a garage sale.  She was a curious and non-directive art therapist.  She watched with caring eyes; so attentive, non-judgemental, mostly silent.  In my workshops people always ask, "What do you say or do while your client is making art?"  My answer is always, "Listen and Watch."  And then I say, "If you've never had someone attend to your art making in silence with full non-judgemental presence, it's hard to imagine.  But the experience is profound."  And I'm talking about how Susan did that for me.  I had heard people criticize her for going too slow in her work with clients.  Her pace was perfect for me.  Her confrontations were nudges in the form of an art invitation.  She didn't psycho-educate or intervene or give homework. She let the work unfold.  She trusted the art implicity.
Those days I was caring for my 12 month old and grieving my father's early and tragic death.  I was fresh out of graduate school and my internship was intense. On one of my visits I was frazzled and made the comment that I just couldn't stand being cooped up inside.  Susan suggested we have our session outside in her courtyard.  We brought the paint out and a large piece of paper and I felt myself expand while my art breathed in the open air.  Spontaneously, I divided the paper with a representation that depicted two parts of me.  One side was the organized, competent mother and intern part of me.  The other side was the emotionally distraught, depressed, traumatized part of me.  I was trying to make the case that these parts had to stay separate and that no one could know about the distressed part.  I told this to Susan.  "I can't let people know how messed up I am." Susan wondered aloud, "What would it look like if you connected the two parts?"  I did.  Actually, the colors did it themselves.  I felt like her invitation was magic.  Something inside chinked together like granules of sand being compacted neatly.  Each facet turned to fit with the neighboring granule's edge. The moment was a turning point for me.  I felt integrated.  I felt the possibility that I didn't have to cover up or hide.  I felt known and seen.  I felt the power of art to do all of that without needing words to explain it.
There's another moment that I replay sometimes.  It's not as nice a scene as the patio art therapy moment.  Susan had a show at one of the galleries in the R street Foundry.  It was many years after she was my therapist—maybe 7 or more.  My husband and I had gone to a cocktail party at one of his colleague's houses in midtown.  They lived in one of those Victorians with a front porch as big as a living room and a back kitchen that still had the original black and white tile on the counters.  They were midtown chic and happy and collected art.  It was a regular event to go to Second Saturday.  They fixed appletinis.  I'd never had them before and loved the sweet tart liquor.  I was fairly drunk when we arrived at the gallery.  Susan's show was stunning.  She had used oil pastels to layer textured cloud formations onto wood panel.  Each piece was a representation of a Rilke poem.  I'd never seen texture made with oil pastels in this way before—it was almost like a clay relief.  And her colors were vivid.  And she'd typed out the poems to stand with each piece.  I would have liked to read and absorb and admire them,  but I was drunk. And then when she noticed me and we hugged, I was still drunk.  I garbled something to her that was a congratulations for her show, but it meant nothing because I was too far gone to make a heart connection.  She turned to greet others and do her hosting.  I felt ashamed.  Like I hadn't come in an honoring state. Several months later I went to her open studio and did spend time with her oil pastel works.  I am happy I got to take them in there in a sober state.  She was gracious and spent time explaining her method of crushing up the oil pastels and then layering them to form the textures. Whenever I remember that gallery moment, I feel like a child who failed a parent in some visceral way.  But she didn't hold it against me.
Fast forward another several years, and I'm in Susan's backyard studio choosing jars full of miscellaneous art supplies to take with me to Wind Youth Services.  She was closing her art therapy studio doors and wanted me to have as much as I could take.  I took her jar of corks and her sand, and her artichoke jar full of thread.  I took a rectangular basket full of vellum—I think it was the same vellum that we used sometimes in therapy at her other office by McKinley park.  I took a large collection of clay tools—dirty and well used.  I took a sheet of homemade paper that measured about 3 feet by 3 feet.  I took more jars and a collection of oil pastels and chalk. I took two ceramic bowls that she'd made that held shells and washers.  Part of this gifted collection went to Wind and part to my own studio.  I felt like it was a sourdough starter that had been grown and nurtured for years and was now my responsibility to keep alive.  I felt as if her supplies fueled the growth of my studio and my practice with just the right energy or sentiment or wisdom—or all of that.  Later she mailed me a hand painted card wishing me the very best in my new place and practice.  I keep it, along with the bowls as some of my cherished possessions.
I wrote a piece about Susan in my book.  It credits her with teaching me to trust the art.  What it doesn't say is that this learning reaches for deeper than the art.  She trusted me in my work.  She sent me clients, she gave me supplies, she told people how good I was.  She saw the crumbled, depressed me and still trusted me.  She believed in me which helped me believe in myself.  I occasionally had thoughts about needing to go to coffee with her or to tell her what she meant to me.  When I left Sacramento I thought I might say goodbye to her and thank her.  I never did.  And I don't regret that part, because i am certain she knew.  She held me just like I held her.  She didn't need to know her role in my life because that's just who she was.  A believer, a truster, a teacher of deep levels.  I won't' miss her because I figure ours was an ongoing relationship without having any contact.  And now that she's dead, that won't change.  But I do honor her today.  And I hope I have done her sourdough starter justice.  I hope that I have passed on the leftover art supply collection to good people so that it will live and thrive the way she deserves it to.  I will nurture the thread that I still keep and soon it will emerge into something new and powerful and full.  It will embody the trust that she taught me to hold—on a strip of paper, in my art, in life.
Goodbye Susan Orr.  Thank you for your belief in me.  It made all the difference in the world.