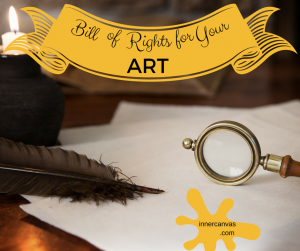 Did you know, your Art possesses inherent rights?  Uphold these rights and your art will serve as an acknowledgement of life, a means of renewal, and a celebration of human experience for yourself and others. (Remember, as a therapist, you have an art form called "therapy"!)
ONE:
Your art has the right to take ANY form that it likes.
Writing, dancing, singing, painting, and acting (to name a few) are common activities that result in the creation of art. But every creative endeavor—from delivering a speech to inventing new software—should be considered art.  Here on this blog, and in the course, Artfix I consider therapy an art.  Art is any creative activity and the form it takes does not limit its existence.
TWO:
Your art has the right NOT to be beautiful in a traditional sense.
Peter London, author of No More Secondhand Art, says this best.  "When we think about art as beauty or novelty we have a painfully incomplete definition." The acquisition of skill and technique is not required in your art making, however it can have a role.  The more skill and practice, the closer you may come to being able to convey your own perspective.  No matter the skill, evaluating your art for its beauty alone dilutes its importance and power.
THREE:
Your art has the right to challenge you to excavate your internal world.
Art asks you to really look at the world from a personal perspective. It wants you to represent how life feels from the inside rather than copy what you see or hear or read.  It needs you to be attuned and deeply personal.  Dig, sift and stir the layers of your experience and use what you find in your art.
FOUR:
Your Art has the right to be created viscerally.
Art is an expression of all of you—hand and soul, heart and head, mind and body.  The senses are our vehicles for experience as well as creating art.  When we integrate the visceral our art becomes more vivid and alive.  In this sensory bath, our art becomes what it needs to be.
FIVE:
Your art has the right to be shared.
As an expression of your unique human perspective, when shared, your art is a contribution to the stream of our creativity and meaning making.  Your art has a voice that can feed and inspire others.  When it is shared, it serves you and others.  When you celebrate your art, you celebrate your experience of life.
Why a Bill of Rights?
I made this bill of rights because my book manuscript asked me to.  I'm serious.  I went to bed thinking that because I was done with the manuscript of Creativity as Co-Therapist, I was ready to send it off to the publishers and move on.  I was going to brush the writing crumbs off of my hands and get them dirty with something entirely new.  But during the night, my book was poking me in the back of the head.  "I have the right to be shared and celebrated.  Don't skip number FIVE!!"
This sharing part of creativity is a bigger block than I think we give it credit for.  Many of us don't want others to see or know about our art.  It's scary to hold up a sign that steers others right into our inner world.  It can stop us at any time, from beginning to end.  Sometimes we won't even start to make our art because if we don't begin creating, we make sure that we won't have anything to share in the end.  Sometimes we don't do the deep dive that will inform our art with the uniquely vulnerable perspective it deserves.  We keep it shallow and copy others' art so that we don't expose ourselves.
And, often, despite finishing, we never take our art into the world.  We stop short so that we don't have to face the personal connections, whether positive or negative, that our art invites.  We don't let our art be an ambassador for our internal worlds, our unique perspectives, our special way of seeing.
If I uphold my Art's Bill of Rights, I must share my book and so I've started making some great celebration plans.  Stay tuned, there's lots to come!
If you were to uphold your Art's Bill of Rights, what would you have to change?
Please consider all of your art—include therapy as your art form.
Would you need to let yourself be less perfect and more vulnerable?
Would you share more of what makes your work artful?
Would you let it take on a form that you haven't tried and integrate something new?
Please use the comments section below to share your thoughts and answer these questions as a way of inspiring your art and others' art.