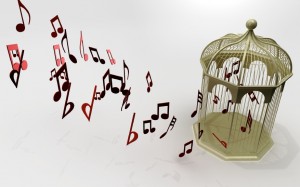 The following is a glimpse at the early roots of my private practice…..
I slide down the wall outside the padded room and I find a seat on the cold linoleum, desperately trying to send soothing thoughts to the crazed captive within.  All I can hear are animal growls, agonizing wails, and violent thumps as they migrate through the cracked seal that locks the cell door.  He doesn't know I'm here at the hospital.  Or that I'm on duty as the mental health investigator.  He probably doesn't even know where he is or why he's been 5150'ed.  The nurses explained he'd been walking all night and was picked up by the police after refusing to leave the median strip that divided the busy street in front of the concert hall.
Last night, I sat still, all ears, letting his elegant piano notes wash over me.  I had been entranced by his passion.  His ability to communicate was magical, and I was truly inspired to be a better person.  When I left the hall, all tingly in appreciation, I felt I could run all the way home and still have energy to paint a masterpiece.  He was beauty in action.
And now he was beauty caged.  The sounds that came from within the solitary confinement room were not magical.  They were painful.  And I felt disillusioned. This was my first glimpse of real life tragedy outside of my own family.
I was 22 years old, fresh out of college in my first real job.  The public defenders with whom I worked thought my fascination with the mental health calendar was strange. Graduation briefcase slung over my shoulder, weighted down with case files, I would arrive at the local locked facilities and interview patients to make sure their rights weren't being violated.  Or, I would listen intently to patients who had requested a writ in protest of the involuntary hold that been placed on them due to the alleged danger to themselves or others.  I was innocent and young, but unlike others in my office, I was not at all repelled.
But this day, the day that Jonathan, the brilliant concert pianist, was being held in solitary—pacing, wailing, hitting– was an eye opener.  His parents had called our office, and the office had sent me to the hospital.  I sat in the cold hallway for hours.  They wouldn't let me talk to him.  (They can hold anyone without legal counsel for 24 hours.)  They wouldn't listen to me when I tried to tell them who he was.  I didn't feel like an efficient investigator.  I didn't feel I could do anything at all.
Then I remembered his beauty.  His magic.  His music.  I began to hum the Beethoven Sonata that he'd played the night before.  The same piece that had brought tears to my eyes.  I knew every note because it had been my mother's most practiced piece from my childhood.  She lent me the notes, he lent me the memory of his passion.  And I hummed.
After a few minutes, I noticed that the wails had quieted to whimpers.  I heard him fall against the floor into stillness, the violent thumping no longer an accompaniment to my Beethoven hum.  I felt joined with him, with my mother, with the magic of music.  He and I sat a wall between us, in our shared appreciation for the beauty of music.  Without thinking, I stopped a nurse who was walking by and told him that it was urgent.  He had to let the piano player out.  He had to let him play.  The nurse started to protest, but for some divine reason agreed.
Together we led Jonathan to the clumsy piano that sat in the community room.  He sat down to play the out of tune friend and it was the second time in 24 hours that I let the magic wash over me.  He played Beethoven and he came back to himself.   I sat on the ratty vinyl couch tuned to all that he had to say.  His beauty was in action again.
That was when my mission was born.  I realized at that moment, that I was not an advocate for indigent criminals or an investigator for do-good lawyers and their impoverished clients.  I was an advocate for beauty.  That I was a junky of sorts—looking for a fix of beauty—even in places where it might not appear.   I could draw it out, celebrate it and set it free.  And when I connected others with their beauty, healing magic was born over and over again.
At what moment did it become clear to you, that this was what you were meant to do?  How do you carry that clarity with you in your work today?  Your comments (below) are sure to inspire others.