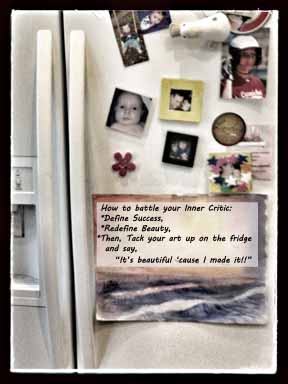 I just wanted to make something beautiful. 
Now that my article is in print, the hardest part is dealing with my inner critic.
The article is not beautiful or stunning or moving.  It doesn't touch me in a meaningful way.  It doesn't evoke imagery. It doesn't have a nice cadence or pace.  It's not even inspirational. 
"That's what happens when you let yourself be put in a box.  You should have seen it coming and you could have been more prepared," my inner critic sings songs in her ugliest voice. 
 Pow! Slap! Tsssk! 
So, what's an artist/writer/therapist/trainer to do?
I thought I'd share because I truly value when others talk about their struggles with creating.
This weekend, I sat down to read the print version of my Case Study, Evoking the Inner Artist, in the latest Psychotherapy Networker issue.  I was anxious because my husband read it before me, and among the comments about pride and accomplishment he threw in, "Did they edit your response to the commentary?  Actually, the whole article feels a bit over edited."
So I went and tucked myself away in the privacy of my home office, ready to soak in satisfaction that I'd finally been published in this highly respected magazine (a decade long goal of mine).  I wanted the moment to be huge–tears, goose bumps, tingles–like what I imagine it must feel to summit Mt. Whitney.  After all, I had worked damn hard to get the article written.  The multiple (4) edits and intense collaboration with Rich Simon (editor) had been nerve wracking.  I had survived them by convincing myself that the process was immensely valuable and that even if nothing came of it, I had learned in the process. 
Several sips of wine and a complete read through  later, the tears were there–but no ebullient goose bumps or satisfying tingles of goodness.  Despite my attempts to keep my rhythm and show my story, the piece lacks these artful brushstrokes.  Instead, it is a bit over edited and is, at best, merely informative.  At that point my Inner Critic responded like one of Pavlov's dogs.  And it took all weekend to get her to stop drooling.
Wrestling with the definition of Success
Every artist has to define success for themselves.  (Remember, when I say Artist, I mean anyone who undertakes creative endeavors and/or creative problem solving–writers, painters, dancers, inventors, innovators, teachers, therapists, speakers..)  There are many, many different frames for success.  Some are helpful, some are not.  Some ask, "Did I solve the problem I set out to solve?"  Others rely on others' responses, "Was it well received, recognized, stimulating?" "Did it provide a result that I was after–standing ovation, record sales, gallery representation"  "Does it look good?", is a very common one that I hear, and often rail against because how can you possibly evaluate that?
My definition?  Create something beautiful, and your creative endeavor is successful.
Defining Beautiful
Up until this weekend's soggy moment with my case study, beautiful has meant the following:
Moving, Meaningful, Touching, Intense, Vulnerable, Loving
Pretty much, whether I'm writing or painting, I can tap into this definition and my Inner Critic knows what to do.  She watches to see if I'm going to that place of intensity.  She holds the bar and coaxes me there in a clear and demanding way.  I follow, because there is agreement.  Beauty is our standard, and it gets us to where all the parts of me want to be.
Re-defining Beautiful
There are times when art just won't cooperate and it won't willingly go to that deeply moving place.  Or, like this weekend, when it just misses the mark because of the external constraints that the damn box holders have assigned.  Rather than wallow in the victim/blame quagmire or pull the plug on all forthcoming opportunities, I had to re-define beauty. 
If it's not what you WANT to create, how can it still be beautiful?
I warn you, here's where it does get all goose bumpy and tingly.  Where you have to soften around your heart and with all the compassion that the very most loving Gramma would ever offer, you say, "It's beautiful because you made it."  And you have to imagine yourself tacking it up on the refrigerator for the whole family to admire–even if it is just a scribble entitled "Sun". 
And you have to admire the hell out of yourself for even trying in the first place.  Because before you started you didn't even know that you would get this far.  And when you had doubts, you kept going.  And you believed enough in your process and what you had to offer to see it through to the end.  And remember the whole thing could be a key piece to the next step, and had you not done it, you wouldn't be able to even see the next step. 
You won't know how it will fit into your whole Inner Canvas, but you can be sure that it does.
I went to bed last night without having to deal with my Inner Critic's drool.  Instead, she lay quietly next to me and said, "When you publish your book, you will remember this article/this weekend, and you will see that it played a part.  It will be beautiful, just as it is, because you made it.  And that's a truly wonderful thing."
It's been a rough weekend.  It's been a beautiful weekend.  I'm grateful for my re-definition of beauty and  I can't wait to create more and more and more…..
What's your definition of Beauty? 
How does it help or hinder you creative work? 
Could you redefine 'success' or 'beauty' and boost your creativity even more?