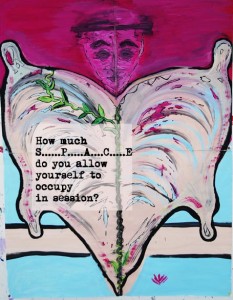 Use of Self is an art.
With our exquisite instrument
We decipher the blips,
We decode the pangs,
We un-riddle the wordless.
Are you a highly tuned receptor–
calibrated to sense even the slightest change in your client's emotional temperature?
Are you a humble vessel
designed to unconditionally receive and contain even the most extremes of human condition?
Maybe you are a world class translator–
trained to precisely interpret your reactions as client projection, transference, attachment patterns?
But really,
In session,
How much space do you occupy?
How much room do you take without having to show up in service of your client?
Or is it just safer to melt into the background?
Extraordinary things can happen when you allow yourself to occupy some space.
When you reach across the divide not as a receptor or a vessel or a translator;
When  you show up as you and declare yourself–unmasked
Things shift and special moments bring tingles that linger for years.
Like I said,
Use of Self is an Art.
The current Artfix group was chewing on this topic during our call this week and I decided to bring it to the larger blog community for fodder. 
As a way of getting you into this musing, I've prepared a small audio that walks you through an art process:
How Occupying Space can shift the dynamic between you and your client. 
Just let me know in the reply box you are interested in the exercise and I will send you the link!