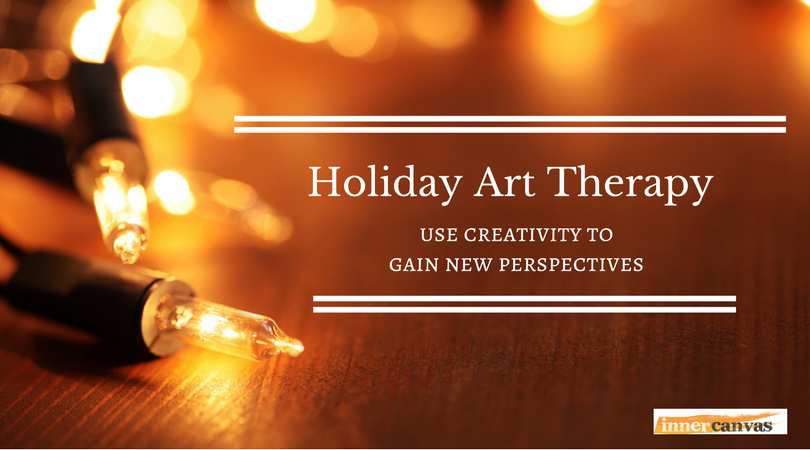 Holiday seasons are rough patches in the calendar for many clients and for us, as therapists, who want to be helpful in the most supportive way possible.  Hints on how to survive trigger laden family gatherings or lonely vacation days are important and often welcomed.  But in addition, I like to encourage my clients to treat the holiday season as an opportunity to re-examine patterns and rituals which the holiday season prescribes.
Holiday rituals can be uplifting, grounding, honoring, lifesaving.
They can also be constricting, devaluing, triggering, re-traumatizing.
Patterns and rituals shape so much of who we are and how we are doing.  Much of therapy is about changing patterns and rituals and the dance between how we act, what we do, and how we perceive ourselves.
From either side of the spectrum–positive to negative–approaching our rituals with creativity allows us to bring our unique perspective to the holidays.  If we rubber stamp the traditions onto the season, we are just going through the motions.  If we blindly fulfill the expectations that TV ads and sparkling house lights bestow upon us, we aren't putting our individualized interpretation into the whole experience.
The Christmas tree (whether or not your celebrate Christmas) can be a perfect symbol for these expectations and rituals.  
Our neighbors decided to get a really big tree this year because they wanted to celebrate the particularly big year that they'd been through as a family.  They brought the 14 footer home and found that it didn't fit in the traditional spot.  Rather than trimming it down, they decided to rearrange the living room furniture to accommodate the monster.  They now have a circular arrangement of easy chairs and couches, with the tree at the center.  It's as if they have a campfire pit in their house, and the tree is the warm glow at the center of everything.
One year, in college, my roommates and I decided to hang our tree from the ceiling.  We attached wings to it like it was an angel tree and decorated only in blue.  That was a year when several our family members had died and we wanted to call in "Angel Christmas".
Many of my teen clients have very clear ideas about Christmas traditions.  They can name rituals that they are NOT going to carry on when they have their own families, and traditions that they look forward to all year long.  Many  of those teens find a sense of true comfort in unpacking decorations and reciting the unwavering traditions that their families carry out during the holidays.  For example, one year, my son Sam suggested that we alter our gift exchange ritual.  Traditionally, all of the adults in our family drew names and purchased one gift off of a wish list submitted by the person's whose name we drew.  The year we altered this exchange was Sam's first year in the exchange as an adult.  He thought it would be so much more fun if we found "weird and crazy gifts" for our person.  My family's sense of humor and love of play embraced his idea immediately.  Not only has it been super fun to find a weird and crazy gift for the person whose name I drew (not telling who!), but I CAN'T wait for our gift exchange thanks to Sam.
An art therapy invitation for the holiday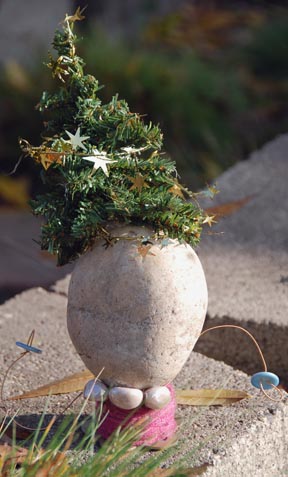 I've bought a bag full of artificial miniature Christmas trees from Michael's.  These next couple of weeks I will be inviting many of my clients to decorate a miniature tree any way they like.  Sure I have glitter and ribbon and little sequin stars for the tree tops.  But I also have things like nuts and bolts, broken windshield glass, google eyes, buttons, bubble wrap, shells and driftwood, fabric, feathers, corks, plastic bottle tops, and so much more. Once they are done creating their very own-unique-individualized tree my client and I will celebrate.  And then we will talk about how the miniature tree reflects who they are and how they've been doing this year.  We will invoke the creative muse to see if there is any changes that the decorated mini tree is inviting them to make in their holiday rituals.  We will celebrate the fact that once again, when we use our creativity and apply it to an already established pattern or ritual, we become lighter, freer, more flexible–and all around better at living life.
I invite you to give your clients this same opportunity!  And, while you are at it, why don't you make one for yourself?!!  I'd love for to share what you come up with!!!