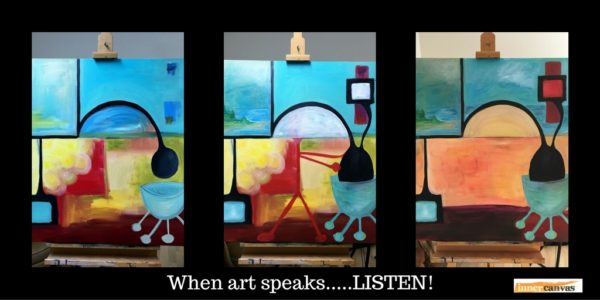 When art speaks, I listen
There is something so profound about the moment a painting reveals its message.
There is also nothing much more frustrating than the period of time when a painting is in transition.  This is the long haul when it is no longer the clean white canvas it used to be and not yet a colorful entity with a message.
The slog through that transition is something I dread and something I love.  It is the essence of the creative process, of discovery, of growth, of life.  Being in the slog is how I stay real with myself and keep track of where I am and where I am going.
About 6 weeks ago, I started a huge painting.  It was beautiful and pristine in its 4 foot square mass. I actually hugged it for a bit and smelled its clean white canvas.   I started it because I wanted answers to the question, "What's next?"  I wanted to fill it up with color and clarity and certainty.  I lured myself into the studio by promising if I tackled my choices with creativity I'd feel more secure, at ease, and pretty darn pleased with myself.  I had no idea what to paint.  I just had the idea that painting would help.
Transitions are everywhere all the time.
My current transition has many moving parts.  I'm facing an empty nest after 25 years of parenting under my own roof.  There are huge decisions looming about a piece property that is more like a sibling than a plot of land.  There's the invitation to write another book, create a new website, and launch a new branch of my business.  There's more—grief, letting go, aging.  The details don't really matter.  Just to say that my transition is as real as any.  And, also to mention that when you really think about it, everyone is in some kind of transition at every point in their lives.
We go from preschool with a nap to kindergarten with no nap.
We go from 25 years of marriage to newly single.
We transition in an out of being hungry, sleepy, happy, and sad.
We leave one job and start another.  Or move from one city to the next.
We lose people in our lives.  One moment we are with them and the next moment they are gone.
We heal from illnesses after we have been sick.  We get a diagnosis and go from well to ill.
Any change requires that we transition.
Sometimes it's not that difficult to navigate.  Other times it's a slog.
The creative process has taught me that the only way through the harder transitions is to embrace the slog.  Not knowing has to be a temporary camping spot.  You set up the tent, you start the fire because while you are waiting for your answer, you might as well get comfortable.
That's where my painting comes in.  If I start obsessing about the details of what's next and feel myself start to spin in circles—going to the canvas feels like a much better place to be.  Rather than revisiting the same thought loop that didn't reward me with anything new, I go to the paint and camp out in transition.  I apply the colors and the lines and blend.  And I get more comfortable.
Yesterday I worked for several hours at the slog.  I was frustrated and irritated that my painting kept showing me windows.  I felt afraid of blocking myself in behind the windows.  But I painted and soothed and camped in the not knowing.  (Sometimes in these moments I imagine myself sucking my thumb with a blanky up against my cheek.  It really helps.)
Making art reminds us of the truth about transition.
This morning, my painting revealed its message.  The canvas is filled with horizon lines.  One after the other after the other.  And, it's likely there are more horizons waiting for me when I get back to the studio to paint.  The horizon lines go on and on and on.  When you walk toward one horizon, you end up finding another. The answer to "What's Next?" becomes less important because on the heals of that answer is yet another transition.  And, with that next transition, comes yet another invitation to partner with the creative process and embrace the slog.
More ways to learn about the creative process.
My probably last ever Artfix course is open for registration now!!  We start mid October.  It will be 4 weeks of wonderful creative exploration into the realm of art, creativity, and therapy.  Join me while you can still get early bird registration!!