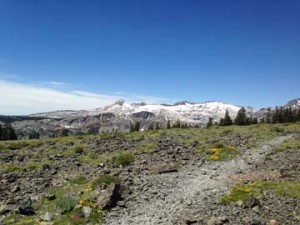 Wilfred Mitchell was a bull of a man. He was a psychologist and a professor and had the emotional intensity required to be good at this kind of work.  Many have described him as gruff and angry, and had the misfortune to be on the receiving end of his unrealistic expectations.  I knew him as Grampa Bill. To me he was a silver back gorilla who took all of his physical strength and melted it into tender and loving protection.
Grampa Bill was the one who taught me about hiking and white water rafting and the great outdoors.  As a teenager, on those amazing summertime adventures, I loved spending time with him.  I loved the mountain air and chili out of a can.  I have always said that Grampa Bill taught me to love nature, but only recently have I realized those trips taught me so much more about life and art and even therapy.
At the end of July, I'll be climbing Mt. Whitney (the highest peak in the lower 48 states at 14, 505 ft. elevation) as a way of walking in my Grampa Bill's footsteps.  (He impressed all of us by climbing Mt. Whitney in his 70's.)  I've been training for this big climb, and the lessons I'm gleaning from the trail are invaluable. 
Lessons from a mountain trail:
1.  You have to start somewhere:
A lot goes into climbing a mountain.  You map the trail, pack the lunches, drive to the trail head, and finally set foot on the path.  Each part of the climb can be considered a start because if you don't do one, you don't climb the mountain.  Every step you decide to take despite fear of what's to come or dread of the exhaustion keeps you heading toward the summit. 
In art and therapy, starting points are infinite.  You have to put paint on canvas, you have to engage in relationship, and you have to be curious and open toward a client.  Each one of these starts invites another start—every step you take keeps you in a creative process which leads you toward discoveries yet unseen.
2.  Enjoy the treats along the way:
When the sun is hot and the air is thin, you can start to get tunnel vision.  You start to think, "Just get me to the top so I can head back down and finish this thing."  If you remind yourself of the special sites you witness along the way, you expand your experience and take it in more fully.  The surprise lizard family, the streams and waterfalls, even the baby manzanita that found its home in a granite crack—they are all invitations to enjoy the process instead of focusing purely on the product.
In art and therapy, process often gets a bad rap.  But really, when the going gets tough, the little things along the way become vital to sustaining our efforts to achieving the end goal.  A new color combination, a giggle fest, or an utterly stunning moment of clarity in therapy can be special treats that enrich the entire journey.
3. Keep going even if you can't see the trail to the top:
Much of the time, terrain obscures the trail.  Elevation, trees, switchbacks, patches of snow are all obstacles to being able to see where you are going.  Sometimes you can't even make out the actual summit.  But, just like a Garmin GPS tracker for your car, the next turn will come into view as you make your way along the trail.  If you concentrate on what's in front of you rather than what you can't see yet, you are more likely to make it to the top. 
In art and therapy, our desire to see the end in addition to the full step-by-step manual on how to get there often stops us from going further.  If we can't see where we are going, we think something is wrong.  If we take lessons from the trail and think about simply doing as much as we can see—every step of the way—pretty soon we can look back and celebrate how far we've actually come.
4. Don't ignore your body:
To anticipate the needs of your physical body and address them in a timely way is truly a learned skill.  I've learned that if I wait until I'm hungry to eat on the trail, it's too late and I suffer some painful consequences.  If I wait to apply moleskin on an overcooked hotspot on my toe, it's too late and it only feels worse. When going up or down in altitude, I've had to come to terms with the fact that burping is part of the process.  Keeping them in just doesn't work.   Paying attention to the subtle signals that your body gives is the key.  Responding without delay or denial is crucial. 
In art and therapy, we often just bring our body along as an extra appendage.  We fail to recognize on a concrete level that our body is actually the vehicle that is allowing us all of the experience that we are having.  If we respond to our thirst and our hunger and our need to stretch, we are supporting our experiences in a richer way. Skipping lunch or delaying a bathroom break in order to accomplish a task or stay on schedule is just plain ignoring a necessary part of ourselves.  And, the consequences, are just not worth it.
5. Celebrate for others, but don't assume you pale in comparison:
It can be quite disconcerting to have a runner pass you on the trail going in the opposite direction; especially if you are just starting out in the early morning.  I often exchange wide eyed looks with my hiking companions that express my envy, surprise, and disbelief.  I've learned NOT to assume that the runner went all the way to the summit, having started at 4am.  Sometimes this is true and it is highly commendable—if you are into that kind of thing.  Much of the time, the runners are on that trail because of the altitude and are on their way back from having gone only as far as the first lake.   Whatever their goal and activity, I embrace the fact that it doesn't diminish my own brave and inspiring endeavor.
In art and therapy, we often compare ourselves to an assumed ideal of others.  If I'm an "artist" I should look and act like this……."master" therapists sound this way and so should I….."normal" people do it this way, what's wrong with me.  It's more about finding YOUR way and celebrating what works for you.
6. Rest can do wonders:
When the going gets really tough above 8,000 ft., and your muscles are demanding oxygen that doesn't exist, it is often mind boggling to me how resting a few minutes can change my relationship to struggles.  If I stop and fully relax, rehydrate, let my muscles melt into a rock as if the rest is as important as the climb, my body rebounds.  It doesn't have to be a long rest, and I don't even need to take off my pack.  I just need to stop awhile and collect.  Then, I'm ready to go again.
In art and therapy rest is often eschewed because it's a waste of precious time.  We don't have the muscular fatigue from a hike to weigh us down in such a concrete way, so we just forge ahead despite our weariness.  When we melt into relaxation, even for a few minutes, we are collecting energy that will allow us to go again.  If we nap or knit or watch an episode of Orange is the New Black, we are contributing to the overall climb in a very necessary way.
7.  When you reach the top, you are only halfway: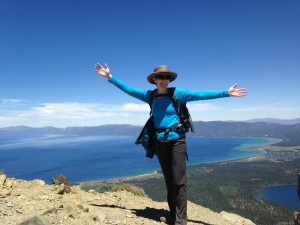 It is exhilarating to reach the summit.  The views, the air, the accomplishment are sweetly moving.  The peak moment is a time to capture.  But, you are only halfway through your hike.  The hidden truth—something that is very powerful to think about—is the fact that much of the time, the scenery is more stunning on the way down.  The vastness is in front of you as you descend into the valley from where you came.  You don't have to look behind you to notice—you can take it all in as you go.  There are more cumulative breathtaking moments on the way down than the moments you collected on the summit. If you know this, the descent can be as exhilarating as the ascent.
And so it goes with art and therapy.  There are ups and downs, peak moments and lulls.  If we embrace the fact that the flow moments are only part of the story and are fully supported by the downhill aspects, we hold the full story.   This way we aren't summit junkies—rather full participants in the entire journey.
8.  The reward at the end tastes better than ever:
After 7 hours of hiking, my meal of choice is a cheeseburger, French fries, and a diet Coke.  People laugh at me because I'm not that kind of eater.  But, it tastes so amazing that it's really hard to describe.  I think I actually moaned last weekend at Izzy's Burger Spa in S. Lake Tahoe.  Sure, there's an aspect of indulgence after so much physical effort.  But it's actually bigger than that.  When you've set out to climb a mountain and you've actually done it—the celebration is so very sweet—however you do it!
In art and in therapy, we often don't take enough time for this celebration piece.  We are so ready to move onto the next climb.  If we paused to enjoy that painting, that accomplishment, that special moment….we'd see how very, very important it is to mark the occasion and savor it.
I'm sure the trail holds more lessons for me to learn and apply to art and therapy—and to life in general.  For now, I continue to revel in the connection with the beautiful man that my Grampa Bill was, and in nature's adventures to which he introduced me. 
For this, soon to be holiday weekend (in the US), I'd love to invite you to get out and climb!  And remember, your climb doesn't have to look like mine.