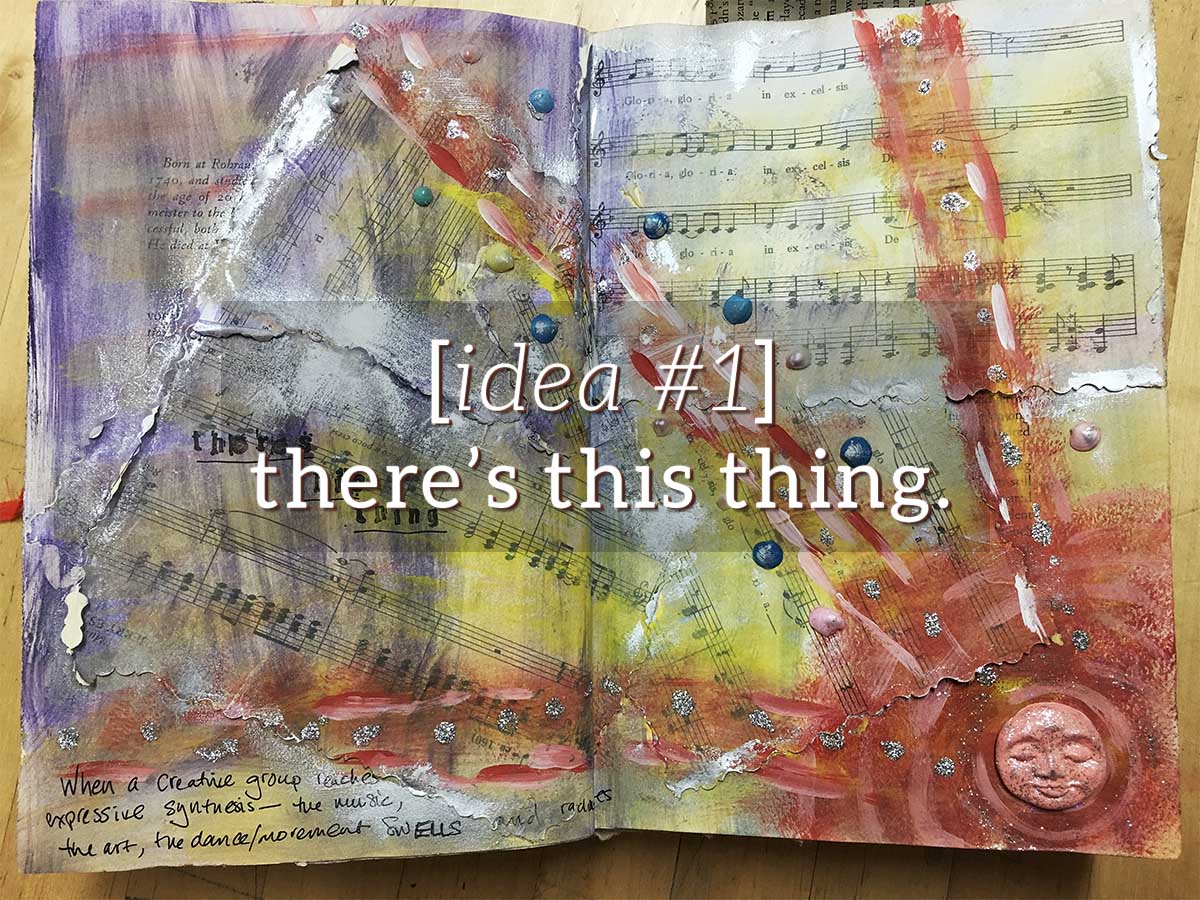 Over the next 4 weeks, my aim is to provide you with inspiring ideas that will get you started with the process of reflecting on your experience of being a therapist. I'm going to be sharing 4 different ideas for you to use in an altered book journal. On the heels of my recent Make-Inar, I am excited to bring more ways for therapists to explore and express creatively.
What is visual journaling for therapists?
Visual journaling for therapists is a way of seeing your work and your clients through fresh eyes. It helps you concertize the intense and intangible experience of working as a therapist into images that reveals– beyond words–what transpires with a client. It's a way of releasing, assimilating, and sorting all of the wonderful complexities of your work.
For me, it's a life line. When I make post session art I feel calm, present, and curious. My doubts or frustration often give way to insights and patience. When I give myself the space to explore and express—beyond words—I feel I am a better therapist.
You might call visual journaling self-care, but I think it is even more. I would call it a colorful form of self-consultation.
Whatever you would like to call it—self-consultation, self-care, sanity checking—I invite you to try it. Each week for the next 4 weeks, I will share a visual journaling idea with you to try. I hope you get inspired and start your own visual journaling pages. May these ideas bring clarity and inspiration to the valuable work you do in the world.
For sure, if you get sparked by these ideas, you may want to check out Going Beyond Words: The Art of Therapeutic Relationships. Registration is going on now for this visual journaling based course that teaches you to forge powerful therapeutic relationships that are essential to effective therapy.
Why altered books?
I'd like to suggest that you use an old book rather than a brand new blank sketch book. Visual journaling in an altered book is a special kind of journaling. When you use an already published book for your visual exploration there is a profound sense of personalization. It is like you are taking someone else's words and making them your own. Often, there are words or images already in the book that jump out in their relevance to your page idea and the delight and inspiration bring sparkling validation to your art. Other times, the relief you can feel from not having to start with a blank white page gives you the freedom to begin without having to have a plan.
I invited you to choose a book that has special meaning to you. Perhaps the title says it all. Perhaps the book was a best friend at some time in your life. Perhaps the theme of the book is important to your work. Whatever the reason you choose your book, I invite you to experience freedom, inspiration and permission that making an altered book can bring.
Each week for the next month, I will be suggesting a new altered book idea for you to try. My hope is to inspire you to use visual journaling for self-consultation and self-care.
Idea #1. There's This Thing
You know that feeling of being totally amazed and surprised by the rightness of a moment in session? It's "this thing" when you become awe struck by therapy and you feel privileged to have a job where you get to feel so engaged, so real, and so hopeful in your client's capacity for change and healing. These moments are call micro-moments of flow. They are energizing and intense. They are also fleeting—there one moment and gone the next. They are the moments that I like to think about on my drive home from work. I like to go over them in my mind and smile—acknowledging myself and my clients for showing up and melting into the work together.
If we don't capture this thing—this moment in time when everything feels transcendent—when effort turns to ease and there's almost an audible click of pieces fitting together—it floats away. These moments are fleeting and need to be honored, recorded, validated…..celebrated. To make a page that depicts a recent micro-moment of flow—this thing that feels so magically right—is to ignite your ability to usher these moments into session more frequently and for longer periods of time.
For your Altered Book Page: Depict your experience of "This Thing".
Go back over your last week with clients. Remembering your sessions, capture a moment of flow when "this thing" was rich and full and beautiful. If this is a new concept for you, and it feels hard to go back in time, start looking for these moments with clients today. What does it feel like? What colors would you give "this thing"? How could you express this on an altered book page?
Hint: Because this is such an entirely non-verbal experience, try not to put words to "this thing". Instead, FEEL into it and let your hand and art materials guide you. You can't get it wrong when you try making your art this way!
If this idea inspires you to create a page, we'd LOVE to see!! Please share pictures of your altered book page ideas over on the InnerCanvas Facebook page.
Are you loving the altered book idea to help you in your work with clients? Join us now for Going Beyond Words: The Art of Therapeutic Relationship. It's a Continuing Education Course for therapists that will give you hands-on art invitations to help you forge powerful therapeutic relationships that are the very foundation of change in your work with clients.