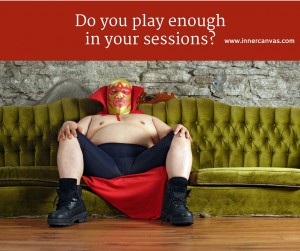 Spontaneity, humor, and play have been knocking at my office door lately.  I've drawn the line at ridiculousness (like this picture),  but I have been answering.  I've been flinging the door open, arms wide and ready for laughter and the incredible lightness of being that floats in and inhabits the session.
It hasn't always been this way.  I'm a fairly serious person.  I like to think things through.  I like depth and intensity of emotion.  I don't shy away from darkness or pain.
But Courtney Armstrong's book, The Therapeutic "Aha!": 10 Strategies for Getting Your Clients Unstuck (Norton, 2015), has planted a seed that's been growing for many months.
In her book, Courtney Armstrong, reminds us that a therapeutic alliance cannot rely solely on positive regard, empathy and compassion.  It also requires a charismatic connection.  That connection comes from "igniting a spark of energy that lights the way out of suffering for our clients".
She says, "Inviting our clients to laugh and play with us can discharge the emotional energy in a way that feels less daunting."  In this way, we are unlocking the emotional brain and creating uplifting moments in which our clients have a felt experience that is transformative and healing.
Of course, The Therapeutic "Aha!" has wonderful examples of Courtney's playful approach, complete with scripts and worksheets.  I recommend it wholeheartedly.
But I'd like to talk about the seed that she planted and how it relates to being a creative therapist.  That is, a therapist who sees her work as her art form.  In my online course, Artfix, and in my forthcoming book, Creativity as Co-Therapist, we look at the creative process and use it as a guide to understand the therapeutic process.  Within the five stages of the creative process there are what I've come to think of pivot points.
Pivot points are moments in time with a client when you have to choose which way to go.
We face these pivot moments several times a session. 
We choose whether to guide our client away from an emotional storm…….or to accompany them into the squall head on.
We choose to facilitate understanding and new cognition…….or to sit with the felt experience without words.
The choices span out through a course of treatment, one after another.  The ability to choose in the moment, without rigid adherence to preconceived rule or method, is the art of therapy.
We have to be artists willing to pivot at a moment's notice, even if we don't know exactly where it will take us.  We are nimble brained, light in our thoughts, and spontaneous.
One of the pivot moments that I've avoided in the past is to turn straight into silliness or laughter. 
I've been hesitant because I feared that my clients might think I wasn't taking their issues seriously or that I was minimizing their pain.  Courtney Armstrong voiced these same concerns in her book, however her clear understanding of neuroscience helps make sense out of the fact that "amusing interventions [can] diffuse resistance, empower clients, and reduce fear and anger."
So, lately my pivot moments have lead me straight into silliness with a client.  
I've conducted full sessions with a British accent, created ridiculous imaginary t-shirts that say "Therapy is magic—poof!", and ended my day covered with paint from a jubilant splatter painting duel.
Thanks to the creative process and Courtney Armstrong, I'm reminded once again, to "trust the process" and embrace the pivotal moments that invite play into my life and my clients' lives.
Adding more spontaneity and creativity into your sessions is enlivening for both you and your clients.
Many of my workshop participants and readers have found it very helpful to use my Permission Slip Worksheet to expand their creativity and to see themselves as artists of therapy.  If you'd like to take a look and identify some tangible things that you can do to add more spontaneity to your pivotal moments, leave a comment in the reply box. I'd be happy to send it to you!